Specification
Measuring range 4-30 cm
Supply voltage 4.5-5.5 V
The average current consumption 33 mA
Output: voltage-analog signal
Case: 29.5 x 13,0 x 13,5 mm
Weight: 3.5 g
Description
The sensor can detect objects at a distance of from 4 to 30 cm. The output is the analog signal whose value depends on the distance between the detected object and the sensor. The closer object is, the voltage at the output is higher.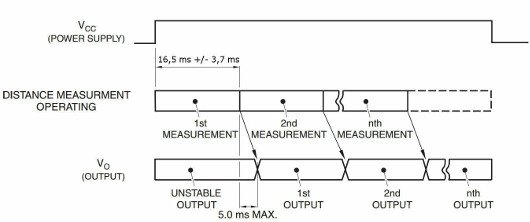 The measuring sequence after connecting the power supply.
Examples of application
These sensors are eagerly used by designers of mobile robots, e.g. in building fighting robots to recognize the enemy, or chassis platforms, where it is used for obstacle detection.
The product is compatible with Arduino
The sensor's output should be connected to any analog output, measurement is done using the function analogRead(sensorPin);. Example of project with code, can be found on the bildr website and in our guide.
Accessories
To facilitate the connection of the sensor, in our offer, available are also special wires: without end and with the tips: male and female.

The other optical distance sensors
In our store available are analog versions of sensors that detect objects in the range of: 4-30 cm, 10-80 cm, 20-150 cm and digital sensors that detect objects in field of view: 5 cm , 10 cm and 40 cm.
Leads
The sensor has three leads: power - Vcc (voltage from 4.5 to 5.5 V), weight - GND and analog output signal Vo, the value of which depends on the distance between the sensor and the detected object, this dependence is presented on the chart. The following figure shows the distribution of the leads.