Description of product: Li-Pol / Li-Ion / Li-Fe / Ni-Cd / Ni-MH Charger with Redox Delta balancer with built-in power supply
Redox Delta is a simple and universal charger working with most of the cells used in robotics and model building. Large, easy to read display with intuitive user interface allow you to select the appropriate parameters and constantly monitor the battery status during charging. The adapter kit provides uninterrupted charging of cells LiPo, LiIon, LiFe, and packages of NiCd and NiMH. Built-in balancer ensures the correct and balanced charging of all cells in the packages. The device has a built-in power supply for direct attachment to the socket.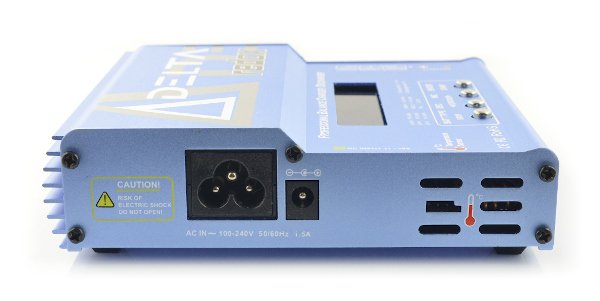 The charger has a built-in power supply working through network cable of clover type (included).
Specification
Supply voltage: AC 230 V (AC)
Working voltage of the charger: DC 11 V to 15 V
Output power:

max. charging power 50 W
max. discharge power 5W

Charging current: from 0.1 A to 5.0 A
Discharge current: 0.1 A to 1.0 A
The number of used cells NiCD/NiMH: 1 to 15 cells
The number of supported cells Li-Po/Fe/Ion: 1 to 6 cells
Built-in memory of battery charger: max. 5 packages
Function of cycling the packages
4 programming buttons 
Weight (without wires): 277 g
Dimensions: 133 x 87 x 33 mm
Built-in socket:

sockets to adapter of balancer + adaptor 2-6S
sockets to DIN plug for charging (corresponding glands are included)
socket of Jack type (DC 12V)
socket for an additional temperature sensor
socket of built-in power supply
The contents of the set
Charger Redox Delta
Cable for charger with plug for 230V
The power cable 12 V DC (Jack - Crocodile)
Adapter Banana (2x plug) 4 mm -> DEANS
Adapter DEANS -> crocodile
Adapter DEANS -> servo socket
Adapter DEANS -> candle dummy
Adapter DEANS -> TAMIYA
Adapter crocodile -> Jack (for powering the charger from battery 12V)
Instruction manual in Polish