Description: Odometer - STEAM LAB - mechanical model kit - veneer - 157 elements - Ugearsmodels 70130
The set consists of157 elementsfor self-assembly, which after assembling form athree-digit counter- an indispensable element of odometer. The construction of the model includes three cylinders with numbers from 0 to 9 and aMaltese mechanism. The counter hastwo options of countingdown - by pressing the button in the upper part of the panel or by turning a knob located on the side. The counter can display numbersfrom 1 to 999. The model does not contain electronic components, and the elements move thanks to the appropriate application of a rubber band. The package containsveneer(plywood) sheets, from which you only need to press out thefinished partsand then join them together following the illustrated instructions included in the kit. Noglueor additionalassemblyparts are needed to assemble the model. Assembly is very simple and takesbetween 1 and 2 hours.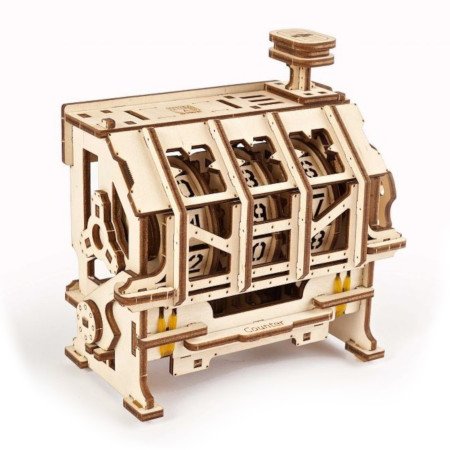 With the counter model from Ugearsmodels you can count the steps on your way home, the number of passers-by in the park or the number of cars entering the parking lot.
Technical specification of the set
Model: counter - STEAM LAB
Type: mechanical model
Model designed for self-assembly without glue
Precisely cut out elements using laser method
Counter with two possibilities of data recording: through a dial or a button
Elements can be set in motion with a rubber band
Compatible with theUgears ARapp
Instruction language: UKR, ENG, DEU, FRA, POL, SPA, ITA, RUS, JAP, KOR, CHI
Material of construction of elements: veneer (plywood)
Number of elements: 157 pieces.
Assembly time: 1 to 2 hours
Model dimensions: 140 x 70 x 120 mm
In our offer you will also find other proposals of mechanical models fromUgearsmodels.