Description: Polol U3V12F9 - step-up 9V 1.4A step-up converter
A controller that increases the voltage from 2.5 to 9 V to a constant value of 9 V. The efficiency of the inverter is 80 - 90 % depending on the specified input voltage. We also offer modules from this series with 5 V, 9 Vand 12 V output voltages.
U3V12F9 inverter outputs
The module has three outputs:
The connectors are properly signed on the board. 2.54 mm leadout Raster - popular connectorsgoldpin, allow the module to be mounted incontact plateorconnectionby means ofcables.
Inverter system efficiency
Efficiency is defined as the ratio of output power to input power (Power out)/(Power in). This is a very important parameter when working with portable energy sources (batteries and accumulators), where the time of operation on one charging cycle counts. The efficiency of this pulse system is about 80% - 90%. The output current depends on the input voltage. Details are available on the chart: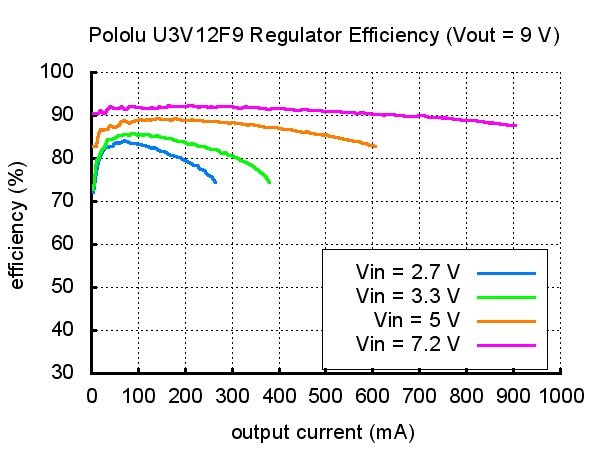 Efficiency of the system at an output voltage of 9V.
Dangerous voltage pulses
When connecting the power supply to the module, dangerous, short, high amplitude eclectic pulses may occur(so-called pins)that could permanently damage the system. Polol's tests show that for voltages above 10V, the pins may have an amplitude of over 20V. In order to protect against this undesirable phenomenon it is recommended to solder a capacitor of at least 33uF as close as possible to the pins supplying the converter.
Polol U3V12F9 inverter specifications
Input voltage: 2.5 V to 9 V
Output voltage: 9 V
Maximum

input

current: 1,4 A
Output current: dependent on input voltage - see graph
Efficiency of 80 - 90 %
Integrated shutdown system for inverters at too high an operating temperature
Dimensions: 13 x 8 x 3 mm
Weight (without connectors): 2 g