Product description: NCP1402 - step-up converter - 3.3V 0.2A
A miniature inverter module for voltage upgrading based on an NCP1402 chip. It works properly from 0.8V, so it can be used as a 3.3V source in circuits powered by small, lightweight batteries.
Step-up converter outputs
The module has three outputs: VIN - input, GND - ground and VOUT - output, which makes it extremely easy to use. The connectors are properly signed on the board. Raster of 2.54 mm - popular goldpin connectors, allow the module to be mounted in a contact board or connectedwith wires.
Efficiency of NCP1402 system
Efficiency is defined as the ratio of output power to input power (Power out)/(Power in). This is a very important parameter when working with portable energy sources (batteries and accumulators), where the time of operation on one charging cycle counts. The efficiency of this circuit depends on the input voltage. This dependence is shown in the figure below.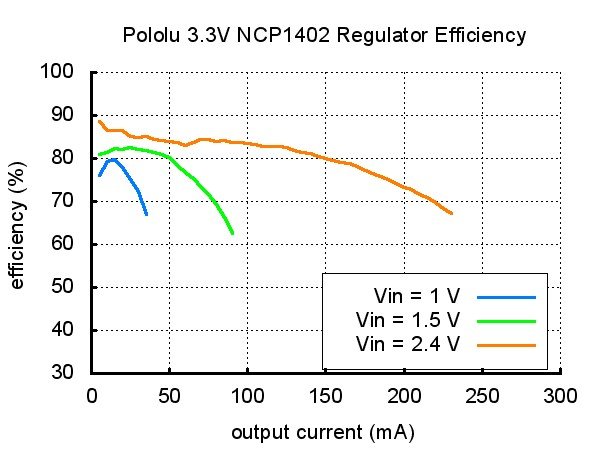 The efficiency of the module depends on the current consumed.
Diagram of the system
The module has all the necessary passive components for proper functioning of the system.

Diagram of the inverter module.
Inverter specification NCP1402
Supply voltage: 0.8 V to 3.3 V
Output voltage: 3,3 V
Output current: 200 mA
Dimensions: 12.7 x 8.4 x 3.8 mm
Weight without connectors: 0.6 g
See NCP1402 documentation for details.