Description
The set for inspections with the VGA 2 MPx camera, lens, monitor of 7" and 40 LED illuminator with a magnification from 0,12x to 2x (approx. from 8 to 100x on the display). It has good image quality and is ideal for the inspection of brightness. Maximum working distance is 110 mm.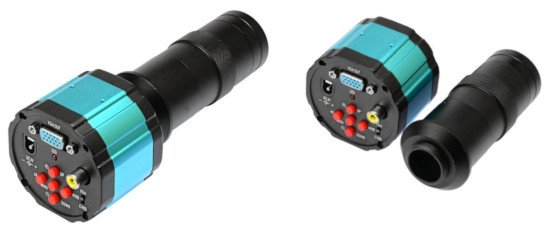 The camera has the option of attaching the lens to the type-C connector (lens is not included in delivery).
Key features
Control function: brightness, contrast and color balance, saturation, sharpness, Cb (blue) shift, Cr (red) shift, cursor, vertical, horizontal, negative
Image resolution: 1600 x 1200 (UXGA)
Good image quality and brightness ideal for the inspection 
The maximum working distance of the set is 110 mm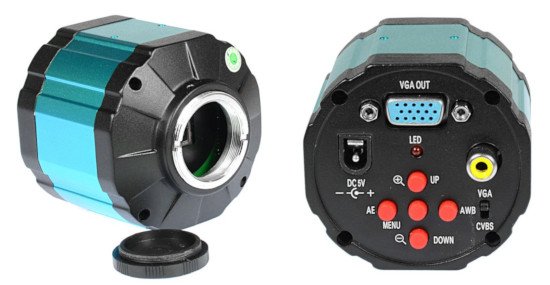 The camera has the VGA connector and buttons to navigate through the configuration menu.
Specification
Camera
Camera resolution:

2 Mpx

UXGA 1600x1200px

800 lines

Matrix

:

2 Mpx, 1/3"
VGA output

:

1024x768 px - 60 Hz

1280x1024 px - 60 Hz

1600x1200 px - 60 Hz

White balance:
auto
Lens
Mount:
type C
Magnification:

from 0.12 x 2 x

approx. from 8 to 100 x on the display

Field of view:
from 2.4 mm to 32 mm
Dimensions:
115 x 40 mm
Weight:
210 g
Monitor
Diagonal

:

7"
Type of matrix

:

LCD TFT - color
Image format

:

16:9 / 4:3
Resolution

:

800x480 px
Contrast:
100:1
Signal type:
PAL / NTSC
Supply voltage

:

12 V DC
Operating temperature:
0 °C to 80 °C

Temperature of the

storage:

-10 °C to 80 °C
Case material:
ABS
Dimensions:
193 x 135 x 25mm
Illuminator
Number of LEDs

:

40 LEDs in white color
Power

:

6 W
Service life

:

100 000 h
Supply voltage

:

100 V - 240 V, 50 - 60 Hz,

automatic switching

Internal thread

:

M28 x 0.75
Holder

:

16 mm - 46 mm
Set includes
1x camera of 2 MPx
1x lens 100x C-with industrial mount
1x table stand
1x 40 LED display
1x monitor of 7" AV / VGA
1x power adapter 100 - 240 V