Product specification: L293D - dual channel 36V/0,6A motor controller
Number of channels: 2

Maximum supply voltage for motors: 36 V
Average channel current: 0,6 A
Peak current per channel: 1,2 A
Housing: DIP

16 (threaded)

Built-in safety diodes

Details in the documentation. We also offer stands to facilitate the installation of the systems in a threaded casing.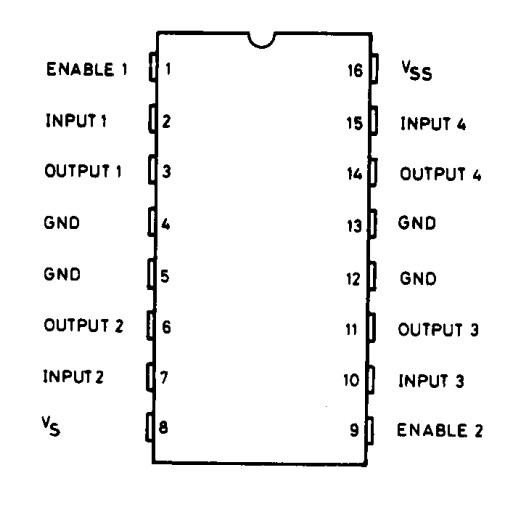 OUTPUT1, OUPUT2 - First channel outputs
OUTPUT3, OUPUT4 - Outputs of channel two
ENABLE 1- PWM of the first channel
ENABLE 2- PWM of channel 2
INPUT1, INPUT2 - direction of channel one
INPUT3, INPUT4 - direction of channel two
LOGIC SUPPLY VOLTAGE Vss - power supply for the logical part
SUPPLY VOLTAGE Vs - Engine power supply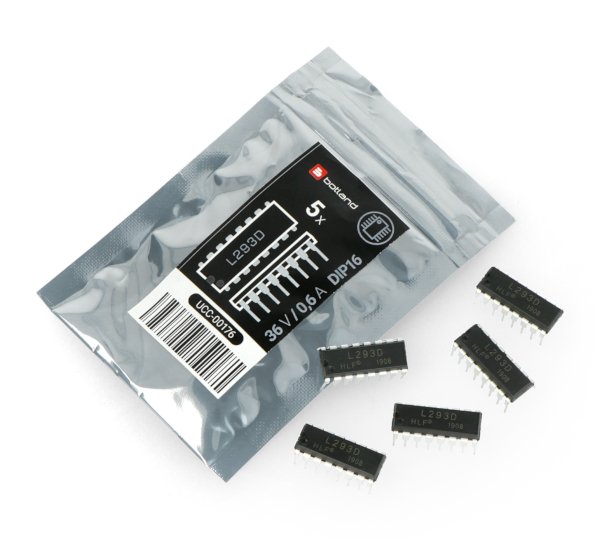 Elements sold in a package of 5 pieces.
Film describing the operation of the bridge H - DC motor controller.

L293D - DC motor controller
We offer high quality DC motor controllers. These are two-channel ICs, designed for applications with voltages up to 36 V and a maximum current of 0.6 A per channel (the current may reach a maximum of 1.2 A per channel). The chip is enclosed in a standard DIP enclosure. A cradle (can be purchased separately) may be particularly useful for learners, thanks to whichThe cradle can easily be connected and disconnected without the need to solder it.
High-quality H-bridge
The element is made by an excellent company with global coverage - SGS Thomson Microelectronics (French-Italian origin). You will receive 5 of these devices in one package. This type of controller among electronics is called "H-bridge" and is most often used to control mobile robots. It is a system commonly known to people in the robotics and electronics industry because it has been on the market for many years and works well in many projects. Thanks to this, it is easy to find a lot of didactic materials and scientific help with its use. It is perfect for controlling a simple mobile robot (two channels for separate speed control of two wheels) or another device based on electric motors. It is worth noting that the device has built-in safety diodes , thanks to which even if the individual pins are incorrectly connected, no dangerous short circuit will occur. They allow electric current to flow only in the designated direction.
Use the documentation
Before using the component, use the attached technical documentation . You will find inside a detailed description of the device, exact dimensions, signed all pins and the current characteristics and limitations it has. Only by using this information you are able to properly consider the device in the design and take full advantage of its capabilities.