Specification
Supply voltage: 3 V to 5.5 V
Current consumption: 10 mA to 120 mA depending on load
Performance voltage:

60 mA for supply of 3.3 V
120 mA for supply of 5 V

Communication: SPI bus
The resolution of the signal (PWM): 12-bit (4096 States)
Description
The module allows to control 16 devices via a PWM signal, for example support drivers of DC motors, the setpoint position of the servos, the brightness control of directly connected LEDs. The system communicates with the main module via the SPI bus. For users of Arduino there is a library and example program for convenient operation of the module.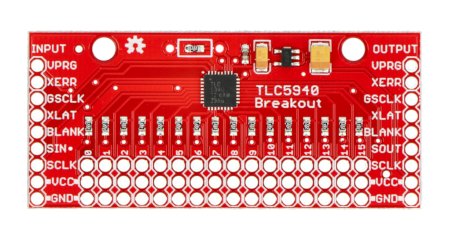 Outputs are openings for popular connectors goldpin with a raster of 2.54 mm, which allows you to easily plug in a breadboard or connect using wires. The channels were marked on the board also, next to each available output signal: supply voltage VCC and the ground GND, which facilitates the connection of the servos.
The set does not contain the goldpin strip, it can be purchased separately.