Product description: Simple servo controller with continuous operation - Servo Trigger Continuous
A module that makes it easy to operatea 360-degree continuous servo system.After receiving an external signal, the controller moves the servo from position A to position B at a fixed speed. These values are set using three built-in potentiometers. The module allows you to control the servo without programming. It has a built-inAtmel ATtiny84 microcontroller, which already has the necessary software.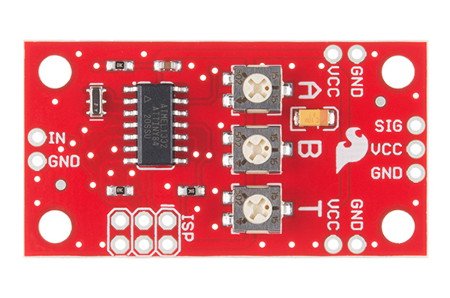 The module operates with a voltage of 5 V and a current of 5 mA. Be careful when connecting it so as not to damage it with too high a voltage. The controller enables cascade connection of several pieces by connecting VCC and GND on adjacent boards.
Specification
Power supply voltage:

Recommended: 5 V
Maximum: 5,5 V

Power consumption: 5 mA
Controls the continuous rotation of the servo
Three potentiometers built in:

A: sets the servo position with the switch open
B: sets the servo position when the switch is closed
T: Sets the movement time between A and B and B and A

Configurable input polarity
Compatible with analogue servers
Built-in ISP interface for reprogramming