Product description: FORBOT educational set with Raspberry Pi 4B 8 GB RAM + 32 GB microSD
Raspberry Pi isundoubtedly the most popular single disc computer. The set is dedicated to people who want to know raspberry in practice. Performing step by step all the exercises, together with the support of the author and other forum users, allows you to master the basics, needed to work smoothly with the minicomputer. From installation of the system through initial configuration and free movement around the system to practical projects using the built-in GPIO raspberry. The course also discusses the use ofthe included HD cameraand a range of electronic components.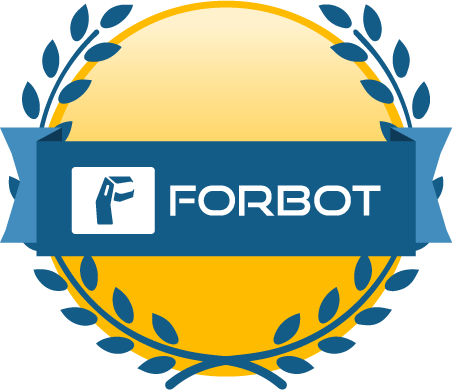 The most popular choice by Forbot.pl readers
The course has been designed for those who want toexplore the incredibly interesting and powerful world of Raspberry Piand, most importantly,want to experience it from a practical perspective!Throughout the next lessons you will be able to get acquainted with working onLinuxsystems and learn about the extremely popular scripting language,Python(for GPIO control).
The kit includes the latest Raspberry Pi 4B in 8 GB version!
Elements of the FORBOT Raspberry Pi 4B education kit.
The aim of the course is to present the most important information in practice, so that every beginner can freely use the RaspberryPi computer.

OnFORBOT.plthere is a course based on elements from this set. In our offer you can also find sets for other courses such as: electronics basics, soldering, Arduino, robot construction and STM32 -check the list of sets "
Course plan
The course has been divided into parts, which are published onFORBOT.plwebsite. Below are all the lessons that make up the course.
The knowledge of Raspberry Pi, Linux and programming is NOT required to perform the exercises from the course. The basics of electronics fromthe FORBOT courseare welcome.
| L.p. | Episode title | Status |
| --- | --- | --- |
| 1 | Introduction, table of contents | Available at |
| 2 | What is a popular raspberry? | Available at |
| 3 | Housing, heat sinks, camera | Available at |
| 4 | System installation with NOOBs, RPi as PC | Available at |
| 5 | Installation of the system by UART | Available at |
| 6 | Installation/communication via network | Available at |
| 7 | Remote access VNC, SCP, RSA keys | Available at |
| 8 | Console work, Linux bases | Available at |
| 9 | Text editors, console cd. | Available |
| 10 | Camera, pictures, image transmission | Available at |
| 11 | Movies, slowmotion, timelapse | Available at |
| 12 | GPIO basics, scripts | Available at |
| 13 | PWM, inputs, camera scripts | Available at |
| 14 | Python basics, GPIO | Available at |
| 15 | DS18B20 temperature sensor | Available at |
| 16 | PWM, entrances, camera in Python | Available at |
| 17 | Summary, start of a series of projects | Available at |
| 18 | Continuation"Raspberry Pi course, level II (projects) | Available at |
Set contents
The set includes the latestRaspberry Pi 4B in 8 GB version,memory card (32 GB class 10) with a reader, power supply unit with USB type C (5.1 V 3 A), universal housing, USB / UART converter, network cable and a set of heat sinks, original Raspberry Pi HD camera (8 Mpx),HDMI - microHDMI cable, small contact plate, connection cables and a set of electronic components (diodes, resistors, buzzer module, button, temperature sensor).All these elements are used in practical exercises concerning GPIO.
Aunique code is also included:
confirm the originality of the product,
You will receive information about new and updated courses,
In the future you will get access to new materials and faster help on the forum.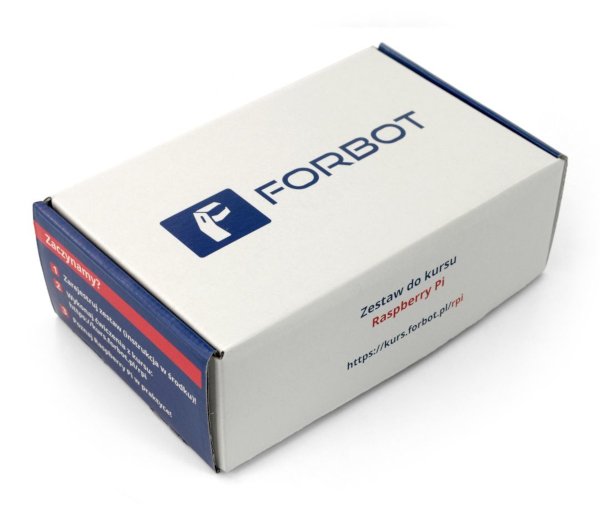 Box with educational set FORBOT Raspberry Pi 4B.
The video presents the capabilities of the latest Raspberry Pi 4B minicomputer.