Description
A set of core elements, introducing the world of electronics. The course on-line available on the forum Forbot.pl is based on those devices. In the set are i. a.: resistors, capacitors, LEDs, transistors and more.
The kit also includes aunique code, by which, in particular:
you can confirm the originality of the product
you will receive information about the latest news and updates on the course
in the future you will get access to new content and quick help on the forum.

The course on-line available on the forum Forbot.pl is based on devices from this set. In our offer you will find alsoother sets to which lessons are conducted on this portal.
Packages marked as a PLUS are designed for people who would like to pay more and support Forbot. To these sets will be added: transparent organizer and gadgets from forbota, for example, pens, stickers and bottle openers.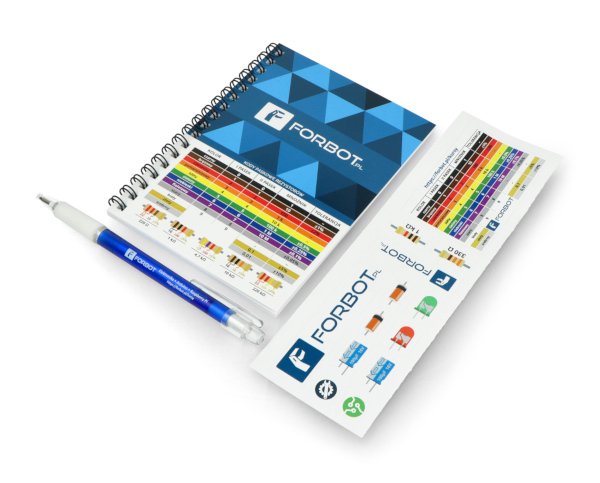 To the Plus kit are also attached gadgets with the logo of Forbot, their number and type are random the picture is for reference only.
The outline of the course
The course was divided into 9 parts, which will be published regularly during the coming weeks. The frequency of the publications depends on Your participation and the number of comments.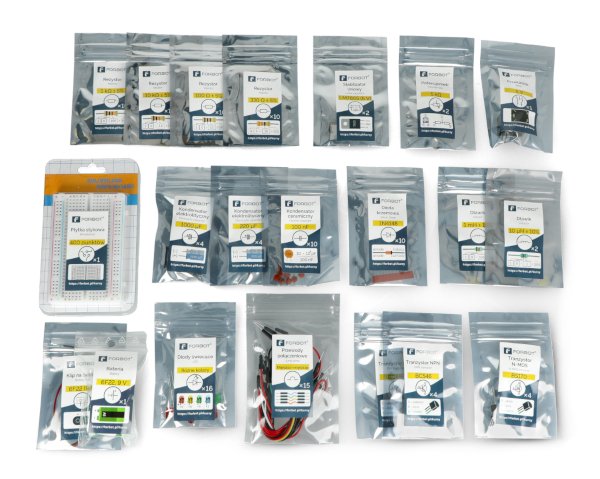 The meter is an extra option that you can add choosing from the menu below the price of the product (when selecting a meter the cost of the set increases).
Recommended addition – not included
In addition, we recommend also the set of the pocket "cheaters", which summarizes the main information discussed during the course of electronics, level I.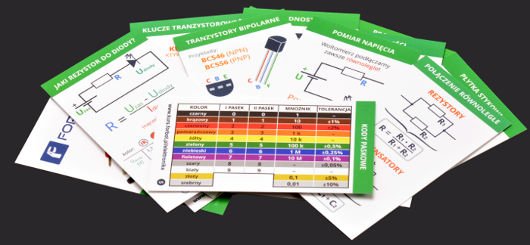 The kit includes:
Set includes electronic components, thanks to which you will be able to perform in practice all the exercises.
L. p.
Name
1
Breadboard 400 holes.
2
Wire male-male - 15 PCs.
3
9 V battery with a special latch (so called clip).
4
Transistor BC546 - 2 PCs.
5
Transistor BC556 - 2 PCs.
6
BS170 transistor - 2 PCs.
7
Leaded resistors: 100 Ω, 330Ω, 1 kW, 10 kW (10 PCs.).
8
The mounting potentiometer.
9
Capacitors: 100 NF (5 PCs) 220 UF (4 PCs.). 1000 UF ( 2 PCs).
10
Relay with a coil voltage of 5 V.
11
Diodes 1N4148 - 5 PCs.
12
LEDs 5 mm: green (5 PCs), red (5 pieces), blue (1 piece).
13
Axis chokes: 10 

μH

(2) , 1mH (2 PCs.)
14
The linear stabilizer 7805 5 V (2 PCs.).
15

A set of gadgets FORBOT.pl

16

Plastic box for electronic components

17

An unique code for registration of a set

18
Multimeter DT830B -option that can be selected in the section "suggested accessories" above the product description (when selecting a meter, the cost of the set increases).