Mounting bracket with magnifying glass2.0 diopter andtwo grippers. The product is perfect for working with small electronics, e.g. during soldering orjoiningelements. The large diameter magnifier makes the enlarged image clear even from a greater distance.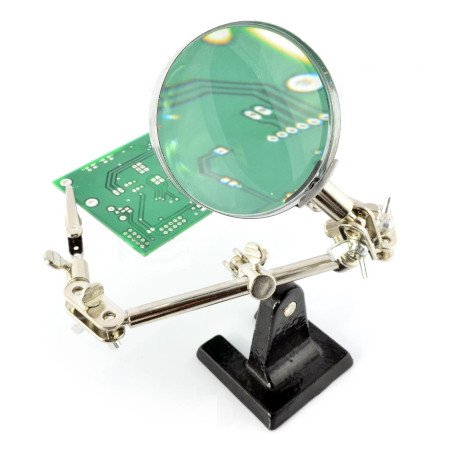 Specification
Magnifier diameter: 62 mm
Magnifying glass: 2.0 dioptres
Material: aluminium and plastic
Handle with magnifying glass - third hand ZD10D - Vorel 73500
Every electronic engineer or robot who carries out a project involving the construction of any electronic device that requires soldering has met with the need for a "third hand". The "third hand" is a common name for a tool that allows you to quickly attach small objects to a stable stand.
For example, it is a situation in which the soldering person needs to operate the soldering iron at the same time, with the second handThe third hand is commonly referred to as a tool for quickly attaching small objects to a stable stand. Handy pliers with strong springs are able to provide a stable grip.
Also use the "third eye".
In addition to the special pliers and the stable stand, the tool has a magnifying glass with 2.0 diopters. When soldering small parts, it often turns out that in addition to the "third eye", a more detailed look at the soldered part of the board is needed (for example, to check the correctness of the solder).
Appropriate handles and a magnifying glass mounted on the same stable tripod are able to replace the second person that would be necessary to solder the device. Such a small tool is an invaluable help both for an experienced and just learning electronics or robot.