Description: Rebel RB-1031 20 V 2 A cordless jigsaw with accessories
The Rebel cordless jigsaw is designed for cutting wood, aluminium and mild steel. It is equipped with a double-sided cutting angle adjustment up to 45°, and is ideal for more advanced work requiring oblique cuts. The machine has an adapter for connecting a workshop vacuum cleaner, which extracts the dust and increases the visibility of the material being processed. Three T-type saw blades, an Allen key, a charger and a 2 Ah Li-Ion 20 V battery pack are also included with the jigsaw. The contents of the set are packed in a convenient, portable organiser.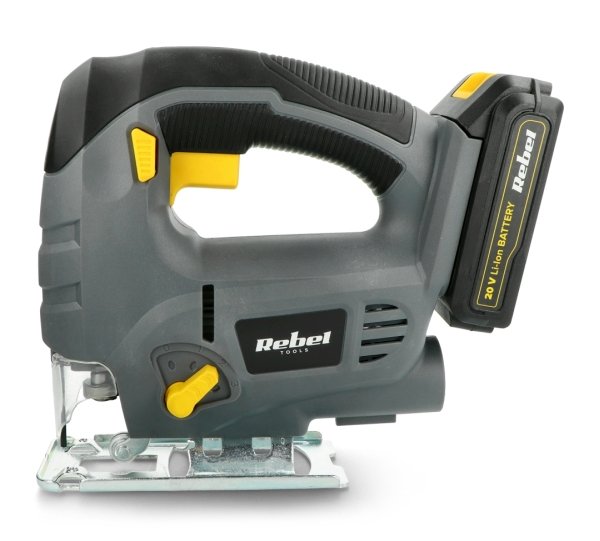 Rebel Jigsaw RB-1031.
Jigsaw specifications
Manufacturer: Rebel
Power supply: 20 V, 2 Ah Li-Ion battery
Battery charging time: 1 to 1.5 hours
Power charger: 21 V, 2.2 A
Unloaded stroke speed: up to 2300 strokes/min
Jump length: 18 mm
Cut from vertical: 0° to 45°
Cutting depth in wood: up to 65 mm
Cutting depth in mild steel: up to 6 mm
Cutting depth in aluminium: up to 20 mm
Blade type: T
Switch lock: yes
Splinterguard: yes
Protection against touching the saw blade: yes
Weight: 1,5 kg
Set contents
Rebel jigsaw RB-1031
3 x Blade
Charger
Battery
Allen key
Adapter for external suction device
Organizer
Operating instructions