Specification
Number of buttons: 12
Dimensions: 77x 70 x 0.8 mm
Tape length with connector: 85 mm
Connector type: 1x7 pin - female 2.54 mm pitch (goldpin connector)
Description
Simple numeric keyboard has the numbers from 0 to 9 and the signs: * and #. It can be used as a device for data entry in projects that are based on any microcontroller system, for example, Arduino or STM32. The pins are the female connectors of 1x7 pin - pitch of 2.54 mm which allow to connect the device via goldpin strap or using wires. The reverse side has a self-adhesive tape for facilitating the installation.
Connection method
The keyboard can be connected in two ways. The distribution of pins are presented in the figure below.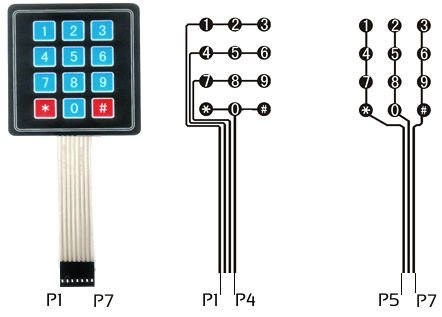 Pin's distribution and connection method of the numeric keyboard.