Product description: CO2 laser plotter 40W 3020
TheCO2 laser plotter 40W 3020 is a powerful device designed for amateur and semi-professional cutting and burning in various materials. The design is equipped with a liquid-cooled laser diode, which is supported by a CO2 system. This enables cutting and engraving difficult materials for a long time. The connection with a computer is through a USB interface and the device itself is powered from the network, so it does not require the use of additional power supplies. The set, apart from the plotter itself, includes accessories such as an extractor ended with a long pipe allowing to safely dispose of exhaust fumes. In the box you will also find a set for laser diode cooling by means of liquid - it enables comfortable and safe connection of efficient cooling.
A set of useful accessories in the set
The set with a laser plot ter includes several accessories necessary for work. For proper and safe laser smoke removal, we can use the included air compressor, which is mounted on the back of the device and has an outlet in the form of a long pipe. We can lead it to another room, air purifier or out the window. For efficient cooling of the laser system a water pump with appropriate connectors is included, it allows for simple and quick installation of a solution that will prevent overheating of the laser diode. In the package you will also find the laser control software and user manual.
Application of the device
Laser plotter
3020 will find use wherever we need an efficient laser. It allows burning and engraving on various materials. The advantages of this device will appreciate the smaller and medium-sized companies that deal with the production of elements from wood, plastic or leather, as well as hobbyists who need a universal tool for their work. Due to its enclosed housing, the laser plotter enables safe work in closed rooms and eliminates hazards associated with working with laser light.
A wide range of possibilities
Laser thanks to high power can process materials such as rubber, Plexiglas, acrylic, textiles, clothing, leather, leather, ceramics, wood and coated metals. The light transmission design of the laser is based on efficient mirrors and lenses, so that the burned points and lines are sharp, which avoids burning the edges of the material. The additional fume hood ensures that the aforementioned lenses and mirrors are not affected by the dust and underburned parts produced during processing.
The set includes
Laser plotter
Air compressor
Cooling - water pump
Software
User manual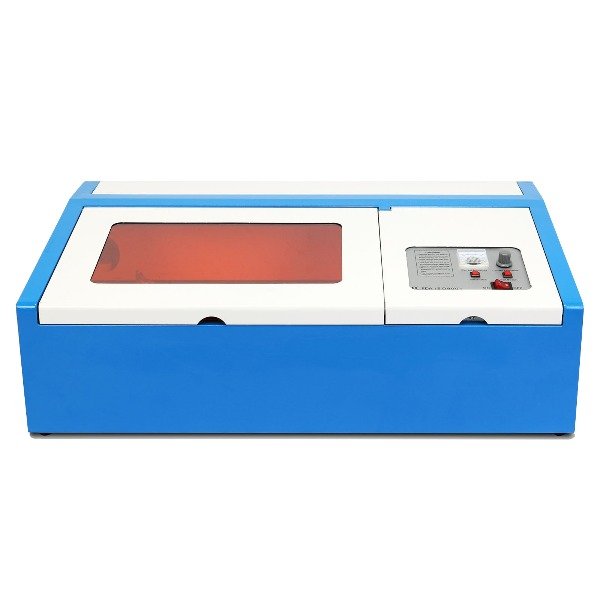 Technical Specification
Specifications
Power supply
220V AC - cable included
Laser power
40 W
Beam length
405 nm
Engraver resolution
1000 dpi
Cutting speed
0 to 30 mm/sec.
Engraving speed
0 to 300 mm/sec
Communication

USB

Construction
aluminium, steel, plexiglass
Lifetime of laser tube
1300 h
Exchangeability of the laser tube
yes
Working field
300 x 200 mm
Laser light transmission
mirror and lens system
Compatible materials

Rubber, Plexiglas, acrylic, textiles, clothing, leather

ceramics, wood and coated metals

Device dimensions
805 x 505 x 300 mm
Weight
30 kg