Opis produktu: Engraving Laser 3D/CNC - PLH3D-15W - 24V
Wszechstronna, przemysłowa głowica laserowa PLH3D-15W przeznaczona do grawerowania i cięcia z rzeczywistą mocą optyczną 15 W. Kompaktowa głowica laserowa może pracować z materiałami drewnopodobnymi, skórami, tekstyliami i tworzywami sztucznymi. Jest to również pierwsza kompaktowa głowica laserowa CNC, która nie tylko znakuje metal, ale także głęboko graweruje. Wykorzystuje niebieskie światło lasera, które znacznie lepiej radzi sobie z grawerowaniem od światła podczerwonego. Komunikuje się poprzez port analogowy, PWM lub TTL. Lasera zasilany jest napięciem 24 V, port komunikacyjny pracuje z napięciami od 0 V do 3 V, od 0 V do 5 V, od 0 V do 10 V oraz od 0 V do 24 V.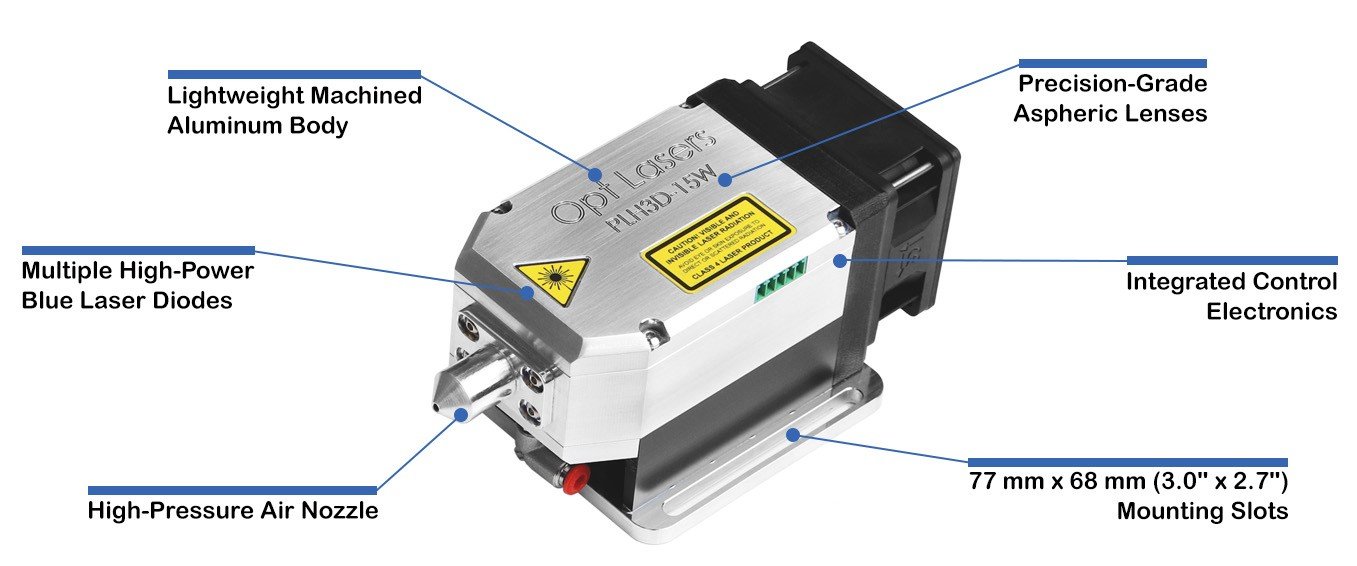 Wyposażenie lasera PLH3D-15W.
Główne cechy lasera PLH3D-15W
Duża moc optyczna w swojej klasie - wykorzystuje wiele niebieskich diod laserowych o dużej mocy do skalowania mocy optycznej.
Zasilany niebieskimi diodami laserowymi - w odróżnieniu od światła podczerwonego, światło niebieskie jest łatwiej absorbowane przez liczne materiały. 
Soczewki asferyczne - każdy moduł laserowy posiada cztery precyzyjnie uformowane soczewki, z których każda jest praktycznie wolna od niedoskonałości. Konstrukcja w połączeniu z wielowarstwową powłoką przeciwodblaskową, zapewnia doskonałe parametry optyczne i spektakularną gęstość mocy 1,5 MW / cm2. 
Synergia mocy i wąski punkt wiązki - system optyczny łączy wiązki z wielu diod laserowych i skupia je w wąskim miejscu. 
Lekka konstrukcja - lekki aluminiowy korpus sprawia, że masa lasera jest mniejsza niż 800 g. Ponieważ typowe wrzeciono CNC waży ok. 1,8 kg, maszyny CNC mogą bez problemu obsługiwać głowicę PLH3D-15W.
Prosta integracja - można ją skonfigurować na prawie każdej maszynie CNC, ponieważ obsługuje sygnały analogowe oraz PMW.
Natychmiastowe włączanie - bak konieczności nagrzewania.
Dysza powietrzna wysokiego ciśnienia - dzięki tej dyszy można czyścić soczewkę 10 razy rzadziej. Sprężone powietrze przyspiesza również proces cięcia i grawerowania, usuwając dym i zapobiegając nadmiernemu gromadzeniu się brudu na soczewce. Dodatkowo chłodzi miejsce pracy, co skutkuje brakiem defektów i jednolitym kontrastem grawerowania. 
Zintegrowana elektronika sterująca - zapobiega przedwczesnemu umieraniu diod laserowych. 
Dłuższa żywotność - niebieskie diody laserowe mają dłuższą żywotność, typowo jest to 20000 godzin. Żywotność przeciętnej diody laserowej wycinarki i grawera do szklanych rur CO2 wynosi 3000 godzin.
‌