Description: Battery Li-Pol Akyga 120 mAh 1S 3.7 V - JST-BEC connector + socket
Akyga's battery has been developed using effective lithium-polymer technology. Rated voltage of 3.7 Vand capacity of 120 mAhcombined with small dimensions and low weight allow to use the battery in toys, GPS systems, MP3 players, as well as medical sensors and smart clothes. A 150 mm long power cable with a female JSTconnector with a 2.54 mm lead raster has been lead out of the battery. A connector to the connector is included. The battery alsohas a high energy density and slow self-discharge, which is extremely important.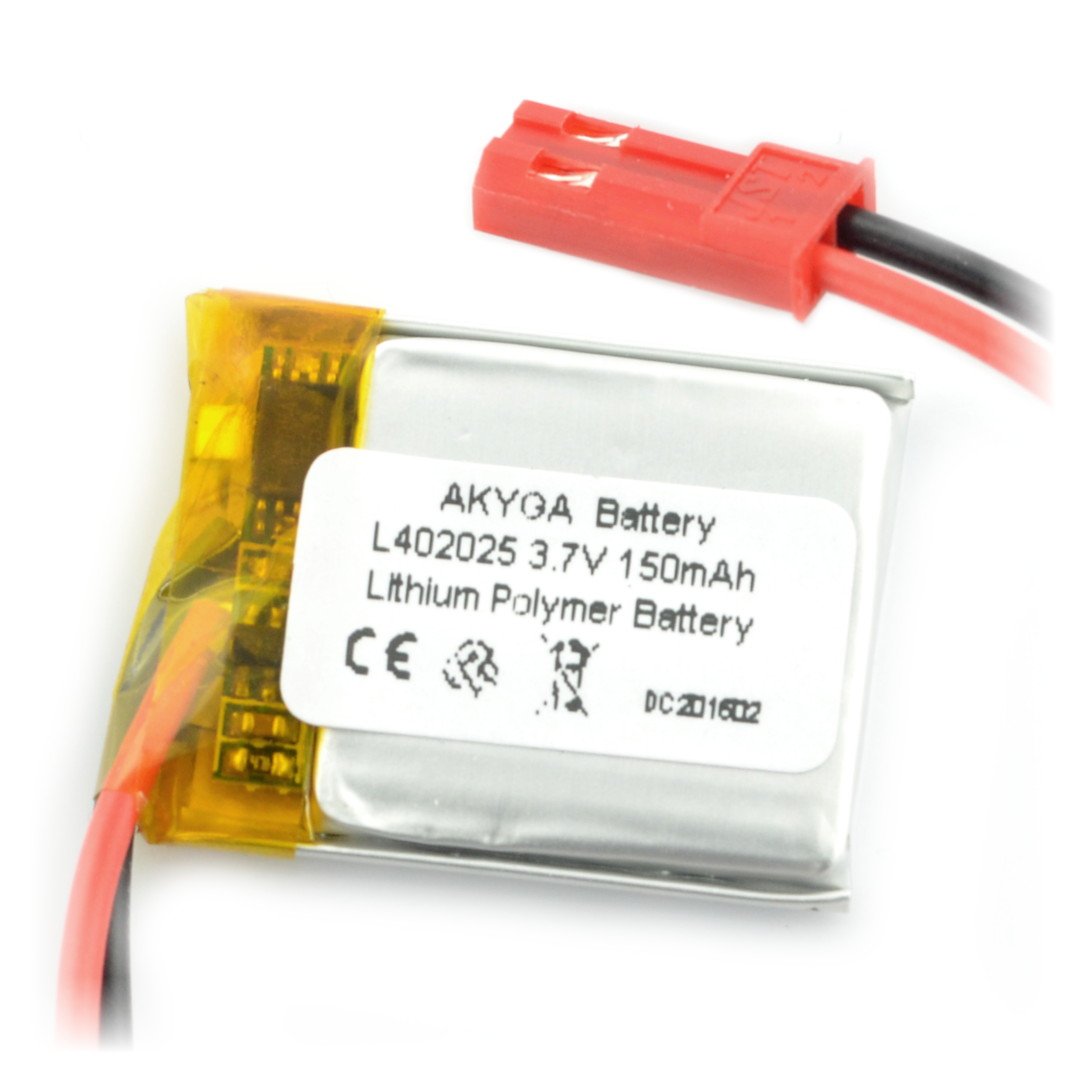 Li-Pol Akyga 120 mAh 1S 3.7 V Li-Pol Akyga battery - JST-BEC connector + socket.
Li-Pol battery specifications
Battery type: lithium-polymer

Rated voltage: 3,7 V

Capacity: 120 mAh

Operating temperature range: -20°C to 60°C

Power cable length: 150 mm

Connector type: Female 2-pin
Nominal charge/discharge current: 0.5 C (0.075 A) / -

Maximum charge/discharge current: 1 C (0.15 A) / 1 C
Raster of exits: 2.54 mm

Security: PCM

Dimensions: 25 mm x 20 mm x 4 mm

Weight: 3 g
Details in the technical documentation.
Important!
Lithium-polymer batteries should be charged using specially designed chargers. It is very important not to open or dispose of used batteries together with mixed waste - you can take them to a disposal point or to any shop collecting electro-waste. Moreover, it should be remembered that the use of mechanically damaged batteries and those with electrolyte leakage is highly dangerous to health and life.
NOTE!
Before use it is necessary to read
Our offer also includes chargers and JST sockets matched to the package connectors.