What are the actual values measured by the sensors?
What temperature is reached by the system closed in the case when it is unmonitored?
What are the values of the accelerations detected by accelerometer?
Where actually was the GPS receiver?
All these questions will be answered by OpenLog. The device is used to record data directly on the microSD card. With a main module (for example, with any microcontroller or a set of Arduino) communicating via simple serial interface (RX and TX pins). The module supports cards of up to 64 GB with the FAT16 and FAT32 file system.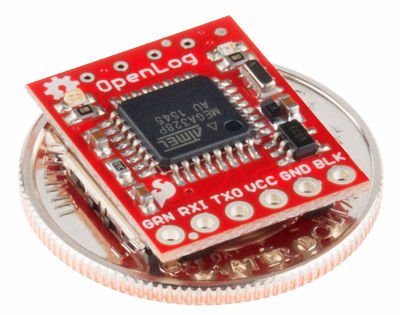 The set does not contain goldpin connectors of 2.54 mm raster, you can buy them separately and solder yourself.
Useage
The device should be connected through a serial UART interface - RX and TX pins. After powering up and sending data, the OpenLog will start to record them on the card. The default transfer rate is 9600 bits / sec. To enter the configuration mode, you need to download three times the sequence ctrl+z, command "new" creates a new file, "md" - new folder. The configuration file config.txt, which is located on the memory card, can be edited from the computer. This allows you to easily select the operation mode and to set the transmission speed.
The use of the system is simplified by the sample program for Arduino and a list of available commands. Users of the module may also use the prepared lessons. Description and sample programs are also on the GitHub.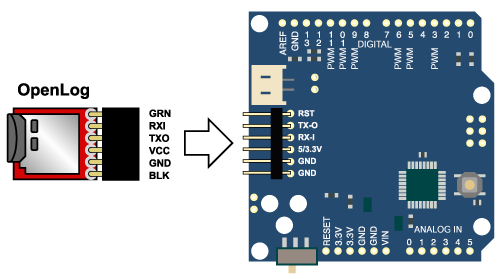 In our offer is also the corner, 1x6 female connector, allowing for the direct connection of the module OpenLog, for example, to Arduino Pro.
Specification
Input voltage: from 3.3 V to 12 V

Serial communication interface - UART (RX, TX)
A simple set of commands
Support for microSD memory cards with the capacity of up to 64 GB (sold separately)
The ability to edit the configuration file from the computer
Configurable

 transmission rate from 2400 to 115200 bits

Minimum connections: power supply, ground, and RX pin
Programmable ATmega328 chip using Arduino IDE (environment for version 1.6.5).
Two status LEDs
Current consumption:

Max: 6 mA

Idle state

: 2 mA

The board size of 19 x 15 x 4 mm