Product description: Polol MC33926 - two-channel motor controller 28V/2.5A
The MC33926-based module allows you to control two motors with a supply voltage of up to 28 V and a continuous current draw of up to 3 A (with adequate cooling). The controller can also withstand current peaks of up to 5 A for several seconds. The speed can be controlled with PWM signal up to 20 kHz. An analogue FB output allows the current consumption of motors with a sensitivity of 0.525 V/A to be measured. The module also has protection against excessive current flow and overheating. For details see documentation .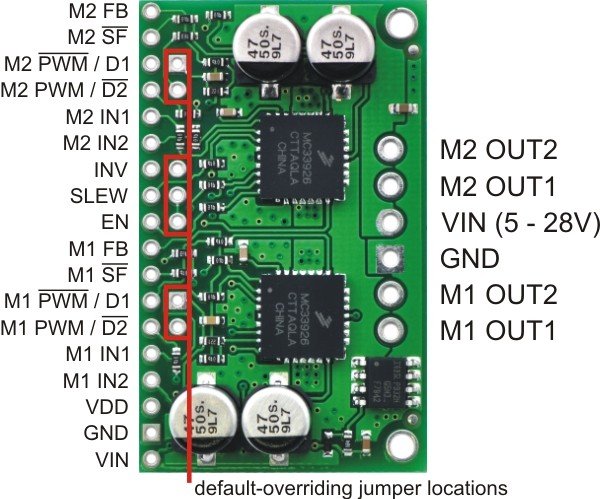 PIN
Description
VIN
GND
Motor power supply (5V-28V).
Mass potential.

M1_OUT1
M1_OUT2

Channel outputs controlled by M1_IN1 and M1_IN2 inputs.
M1_OUT1
M1_OUT2
Outputs of the channel controlled by inputs M1_IN1 and M1_IN2.
PWM / D2
Blocking input - inverted. When D2 is in low state, the outputs OUT1 and OUT2 are in high impedance state. PWM input is not inverted. Filling 70% for the controller also gives 70% for the motor . Outputs are in the low state by default.
PWM /D1
Locking entrance. When D2 is in high state, OUT1 and OUT2 are in high impedance state. The PWM input is reversed. 70% fill, it will pass the motor 100%-70% or 30%. The output is in the high impedance state by default.

M1_IN1

M1_IN2

Inputs controlling the outputs M1_OUT1 and M1_OUT2. Outputs in high state by default.
M2_IN1
M2_IN2
Inputs controlling the outputs M2_OUT1 and M2_OUT2. Outputs in high state by default.
VDD
Output voltage 3V-5V. It is recommended to use only for pulling the SF pin into high state.
SF
Status flag indicating too much current or short circuit. Default is high. Low state appears when there are problems. High state by default.

FB

Output to measure the flowing current. Voltage increases by about 525mV to 1A. Output in low state by default.

EN

Sleep. When the low state is given, both channels will be in low power mode. The output will be in low state by default.

SLEW

Selection of the output voltage slope time. Low state - slow rise (1.5us - 6 us). High state - fast rise (0.2us - 1.45 us). For PWM frequencies above 10kHz it is recommended to select fast rise. The output is in low state by default.

INV

The high state changes the control of inputs IN1 and IN2 for both channels. The output is in low state by default.
Dimensions
The outline of the module is a rectangle measuring 25.4 x 30.5 mm.
Heat dissipation
The MC33926 IC used in the module has a maximum continuous current of 5 A. However, without the use of appropriate cooling, the controller will overheat at lower currents. At room temperature, for example, the controller is able tosupply 5 Afor about 5 s, and 4 A for about 18 s. After this time, the temperature protection switches off the system. At the consumption of 3 A, the protection was activated after a few minutes. To increase the current capacity of the system, a heat sink should be used, which can be mounted with thermally conductive adhesive.
Module diagram
The system contains the necessary components for proper operation of the controller. The outputs are popular goldpin connectors (2.54 mm raster), thanks to which the system can be connected by means of cables .
Polol MC33926 motor controller specification
Motor supply voltage: 5 V - 28 V
The voltage of the logical signals: 2.5 V - 5.5 V
Continuous output current per channel: 2,5 A
Maximum instantaneous current per channel: 5 A
PWM frequency: up to 20 kHz
Protection against incorrect power supply
Dimensions: 45.7 x 27.9 mm
Weight: 8 g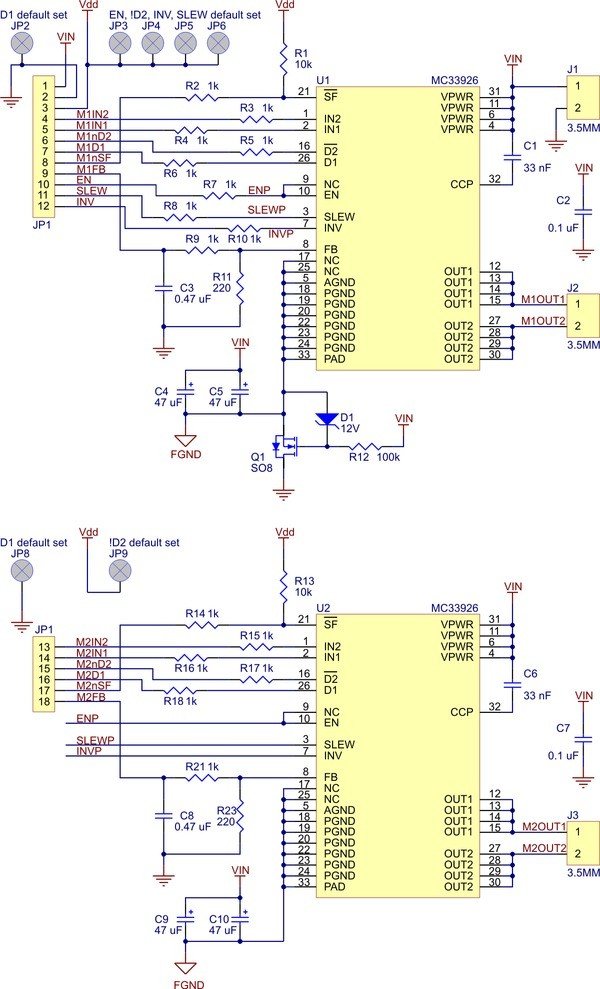 Included: module, power connector, gold pin.