Product description: L298N - two-channel motor controller
Two-channel bridge H. Supply voltage: max. 46 V. Maximum instantaneous current 2 A. Enclosure: Multiwatt15 (THT).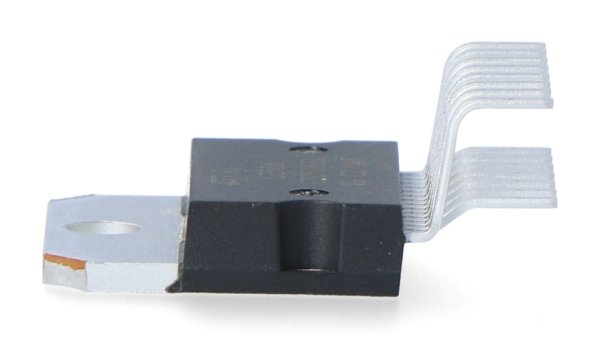 Controller specification L298N
Number of channels: 2
Motor supply voltage: max. 46 V
Supply voltage of the logical part: 4.5 V to 7 V
Peak current per channel: 2 A
Enclosure: Multiwatt15 threaded

- THT
Details in the documentation.
Attention!
The L298N bridge requires external safety LEDs, e.g. 1N5822.
Exits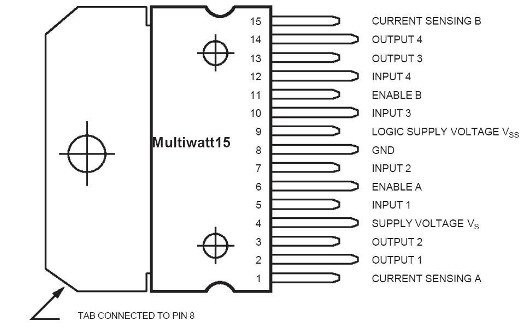 Current sensing A, Current sensing B - current limiting pins (if not used, connect to GND)
OUTPUT1, OUPUT2 - Outputs of channel one
OUTPUT3, OUPUT4 - Outputs of channel two
ENABLE A - PWM of channel one
ENABLE B - PWM of channel two
INPUT1, INPUT2 - direction of channel one
INPUT3, INPUT4 - direction of channel two
LOGIC SUPPLY VOLTAGE Vss - power supply for the logical part
SUPPLY VOLTAGE Vs - Engine power supply
The channels can be bridged to achieve a higher current capacity (max. 4A). To do this, connect:
INPUT1 with INPUT4
INPUT2 with INPUT3
ENABLE A with ENABLE B
OUTPUT1 with OUTPUT4
OUTPUT2 with OUTPUT3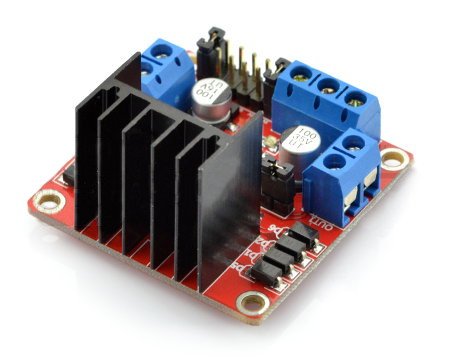 In our offer you will also find a module with a bridge L298, which contains all necessary passive elements.
Video
Film describing the operation of the H-bridge - DC motor controller.