Product description: TLWY ribbon cable - 12 x 0.12 mm² / AWG 26 - multicoloured - 50 m.
Insulated ribbon cable type TLWY, made of the highest quality and purity of copper , has 12 conductorsof 1.3 mm diameter . Each conductor is covered with a different colour of insulation. The insulation is made of a special thermoplastic material based on new generation of PVCs with increased physical and chemical parameters and higher resistance to temperature. Working temperature ranges from -40°C to 105°C. The cable is 50 m long.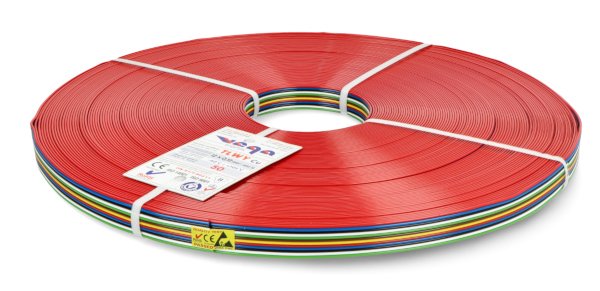 Ribbon cable TLWY - 12 x 0.12 mm² / AWG 26 - multicoloured - 50 m.
What does it meet the requirements?
Ribbon cables meet the requirements:
RoHS (2002/95/EU and RoHS-2 2011/65/EU)
REACH system (Regulation 1907/2006 of the European Parliament and of the Council on restrictions applicable to the production and distribution of chemical materials)
ISO 9001, ISO 14001, and VDE / German Standard, BASEC / British Standard
Conforms to the Polish Standard PN-91/T-90206 or PN-87/E-90054, and the parameters of finished ribbon cables meet the requirements of the Polish Standard PN-91/T-90211
Use of ribbon cable
The cable is designed for use in the fields of electrical engineering, electronics and electrical engineering. It is used in various types of everyday devices, in industrial and electronic automation, in the automotive industry, during the creation of alarm, control, power supply, control and data transmission installations. It is also suitable for production or renovation, modernization of all types of vehicles: boats, drones, planes, machines, cranes. They are also used in powering and controlling LED lighting systems.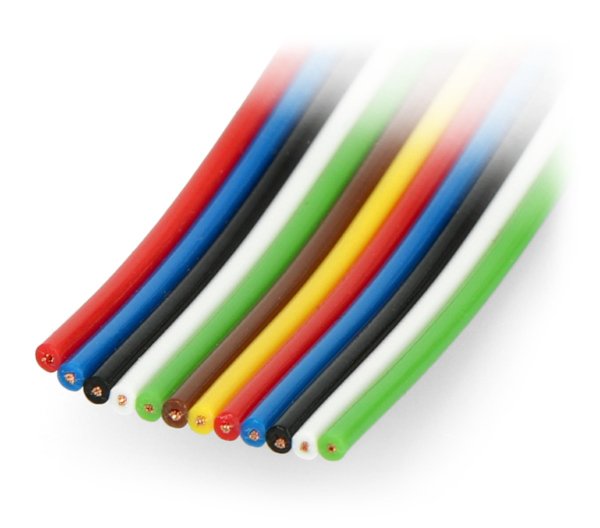 Ribbon cable termination TLWY - 12 x 0.12 mm² / AWG 26.
Ribbon cable specification
Colour: multicoloured
Material: Copper
Number of pins: 12
Number of veins in the beam: 12
Rated conductor cross-section: 0.12 mm²
Inch system cross-section: AWG 26
Conductor construction: 8 x 0.14 mm (Cu)
Operating temperature range: -40°C to 105°C
Average wire diameter: ø 1,3 mm
Maximum operating voltage: 300 V
Maximum current load: 1,2 A
Cable length: 50 m
Technical parameters of LIVE cables