Description
Powerful Panasonic R3 AAA batteries (small fingers). Nominal voltage: 1,2V. Capacity: 800 mAh. Up to 2100 charging cycles. 70% of capacity is retained after10years. It has a U-shaped welded plate.
Panasonic Eneloop stands out:
Up to 2100 charging cycles
They retain 70% of their capacity after 10 years
They operate at low temperatures down to - 20 degrees C
They are charged in the production process with solar energy

Panasonic's high-performance batteries. The product combines the excellent technology of modern nickel-hydride rechargeable batteries with the advantages of traditional alkaline batteries.

The batteries are sold pre-charged and are ready for use after purchase without the need for prior charging.

It is estimated that over 40 billion traditional batteries were discarded last year. Eneloop batteries can be charged up to 2100 times! Using these batteries will help to reduce waste and help protect the environment.

Eneloop technology has a higher voltage level. Eneloop batteries will maintain a voltage level above 1.1 volts for a long time.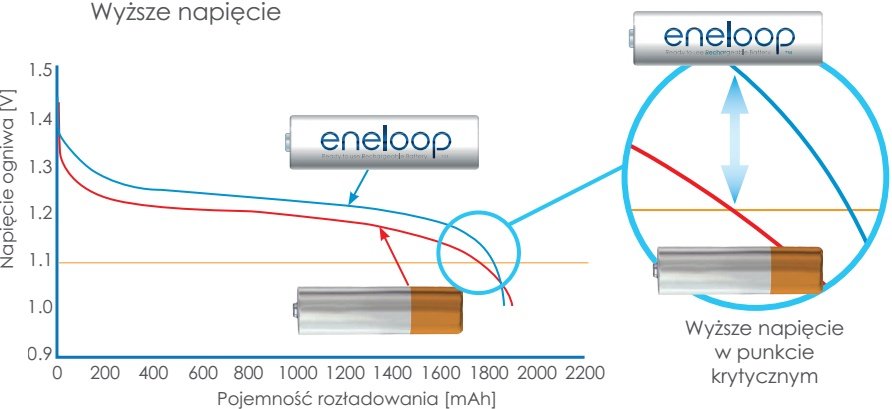 Panasonic Eneloop batteries have excellent performance at 0 °C and
can be used even at -20 °C.
Specification
Designation: R03 / AAA / LR03 / HR04 / MICRO / BK-4HCCE
Type: nickel-metal hydride battery
Typical capacity: 800 mAh
Minimum capacity: 750 mAh
Nominal voltage: 1,2 V
Diameter: 10.5 mm
Height: 44.5 mm
U-shape of the plates