Product description: Housing for Jetson Nano - with fan, antenna mounts, camera brackets and POWER / FR / RESET buttons - aluminum - black - Seedstudio 114992374
Aluminum enclosure for Jetson N ano providing high protection for the module. It has built-in cooling fan and special ventilation holes which improve cooling and heat dissipation process. There is also a double mount on the case, designed for installation of additional external antennas. Three functional buttons: power, FR mode (restore to factory settings) and RESET button increase comfort of using Jetson Nano placed in the enclosure. In the upper part of the housing, there are places to attach the camera bra ckets (brackets are included in the set). These allow you to mount cameras, supported by the Jetson Nano, for video projects.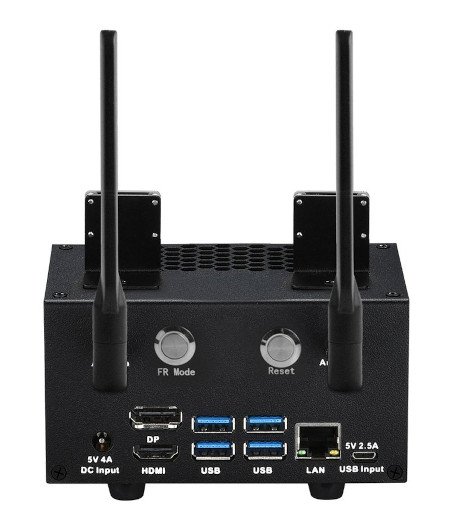 Antennas are not included in the kit, they can be purchased separately.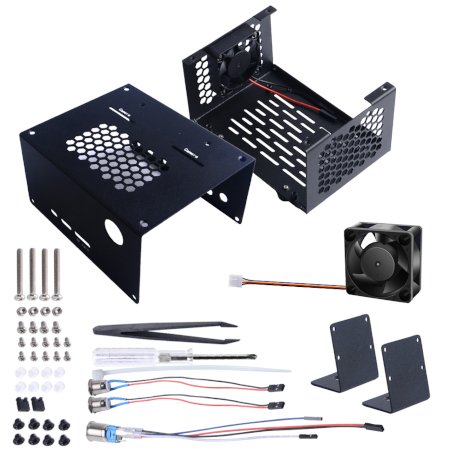 The kit also includes the necessary mounting hardware and tweezers.
Jetson Nano fan housing specifications
Housing for Jetson Nano
Material: Aluminum
Colour: black
Built-in fan: yes
Dimensions: 118 x 96 x 60 (63) mm
Set contents
Two-piece Jetson Nano Case
Side fan
Fan with PWM speed control
Metal camera bracket - 2 pieces
Mounting hardware - screws, nuts and gaskets
Tweezers
Screwdriver
RESET button
FR mode button
POWER button