Product description: Environmental Sensor Module for Jetson Nano, I2C with 1.3'' OLED screen - Waveshare 19486
Module equipped withenvironmental sensorsand a1.3"OLEDdisplay with blue characters, designed for a minicomputerNvidia Jetson Nano. The board, in the form of an overlay on the GPIO pins of the minicomputer, allows measurements of temperature, humidity, pressure, ambient light intensity, VOC, IR and UV radiation. It can also be used inrobotsdetecting movement and orientation. The module usesI2Cinterface with address 0x68 to communicate with the main module.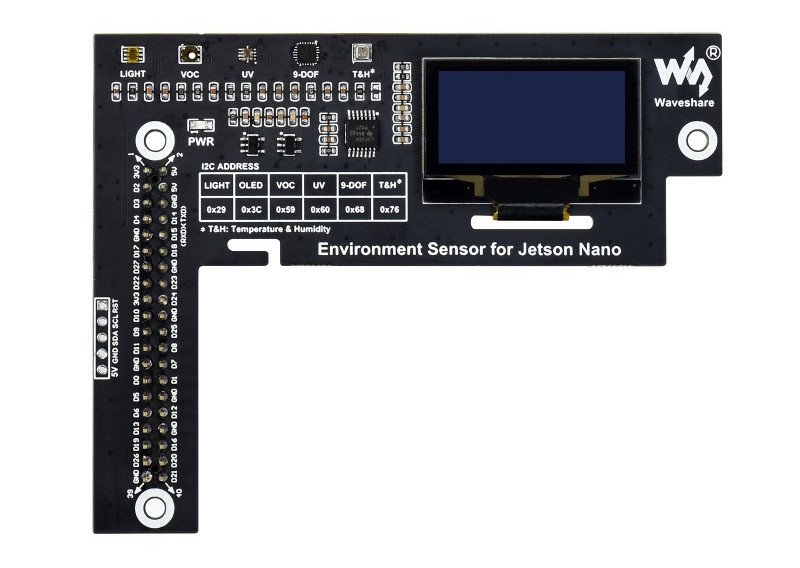 Environmental sensor module for Nvidia Jetson Nano.
Main features of the sensor module
Light intensity and IR sensor - TSL25911FN
Temperature, humidity and pressure sensor - BME280
Motion sensor, accelerometer, gyroscope and magnetometer - ICM20948
IR and UV Sensor - Si1145
VOC sensor - SGP40
1.3" OLED display with blue backlight to display measurement data from sensors
I2C communication
Elements layout on the board
TSL25911FN- digital ambient light sensor and IR sensor
SGP40- VOC sensor
Si1145- IR / UV sensor
ICM20498- 3-axis accelerometer, 3-axis gyroscope, 3-axis magnetometer
BME280- temperature, humidity, pressure sensor
OLED display1,3" 128 x 64 px
Voltage regulator5 V -> 3,3 V / 18 V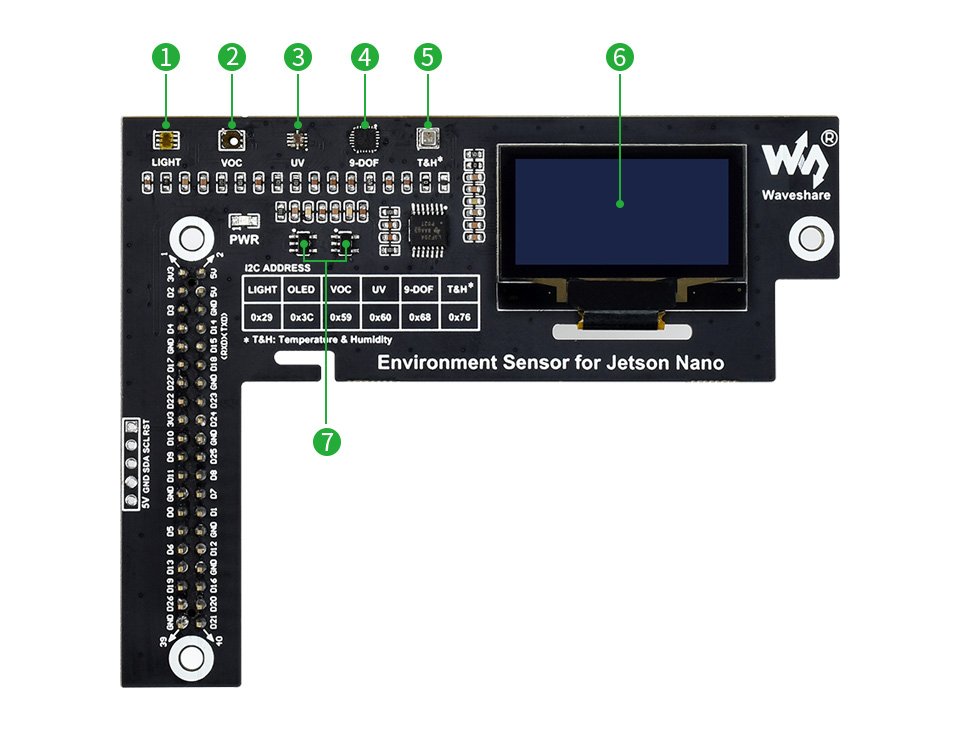 Elements layout on the board.
Specification of the module with environmental sensors
TSL25911FN - light intensity sensor
I2C address
0x29
Measuring range
0 to 88000 Lux
BME280 - temperature, humidity and pressure sensor
I2C address
0x76
Temperature measurement range
from -40°C to 85°C (resolution 0.01°C, accuracy ±1℃)
Humidity measurement range
0% to 100% RH (resolution 0.008% RH, accuracy ±3%, response time 1s)
Pressure measurement range
from 300 hPa to 1100 hPa (resolution 0,18 Pa, accuracy ±1 hPa)
ICM20948 - motion sensor, 9DoF
I2C address
0x68
Accelerometer resolution
16-bit
Accelerometer measuring range
±2, ±4, ±8, ±16g
Gyroscope Resolution
16-bit
Gyroscope Measuring Range
±250, ±500, ±1000, ±2000°/s
Magnetometer Resolution
16-bit
Magnetometer measuring range
±4900µT
SI1145 - IR / UV Sensor
I2C address
0x60
Wavelength measurement range
280 nm to 950 nm
SGP40 - VOC sensor
I2C address
0x59
Measuring range
0 ppm to 1.00 ppm ethanol equivalent
Limit state
to 0.05 ppm or to 10% of the set concentration point
Response time
up to 10 s
Start time
up to 60 s
Support for humidity compensation on the system
OLED display
I2C address
0x3C
Chip
SH1106
Resolution
128 x 64 px
Display color
blue