Product description: Makeblock - HaloCode Standard Kit
HaloCode from Makeblock is a small size programmable circular board with lots of sensors that can be used to learn robotics and programming. The board consists of position sensors (accelerometer and gyroscope), microphone, 4 touch sensors, programmable button, 12RGB LEDs,microUSB port, WiFiandBluetooth module. It cooperates with mBlock graphicandPython text programming languageandmobile applications. HaloCode equipped withESP32 chipand a powerfulXtensa dual-core 32-bit LX6processor, allows you to perform multiple tasks at the same time. It is powered from3 V to 5 V.
HaloCode board construction

Front and back view of the tile.
Graphic language mBlock 5
Very easy and pleasant language to learn programming for children, based onScratch. It consists of colorful blocks with different commands and tasks. It works on a"drag and drop"principle. It is arranged similarly to a puzzle.mBlock 5also has many extensions such as: data in the cloud, Microsoft Coginitive Services, Google sheets or IoT.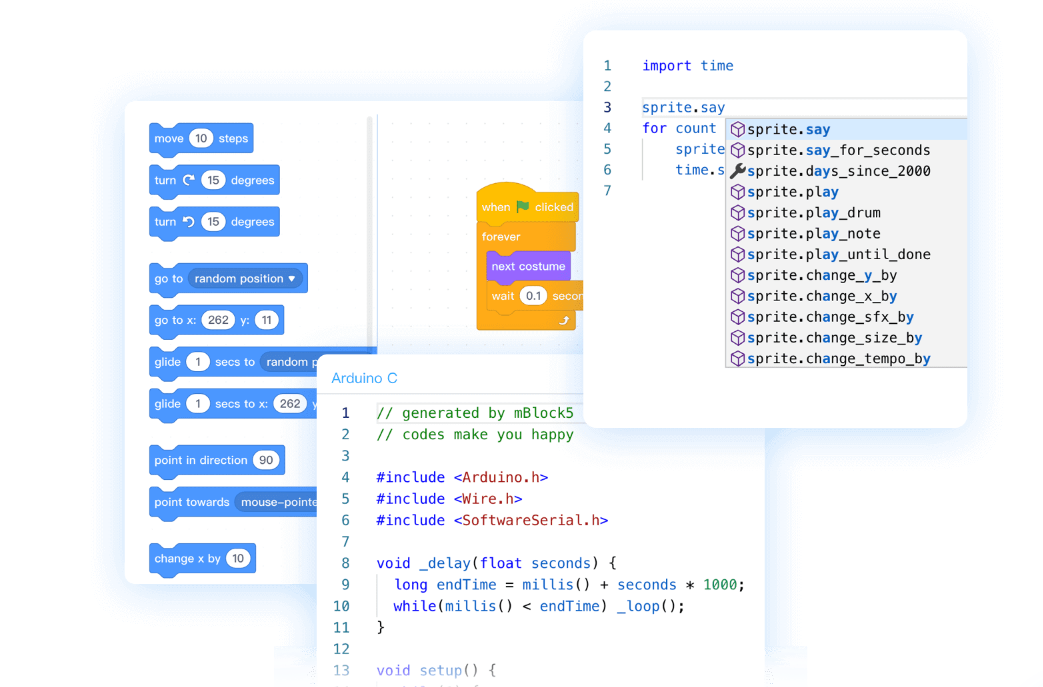 Simple conversion of mBlock 5 to Python.
HaloCode board gives the possibility of programming also inMicroPython. The program that is created from mBlocks can be converted into Python code with one click (seehere).It allows to conveniently observe the changes in the code in real time. The transition from block to text programming becomes much easier. However, you can immediately program in Python, using the built-in editor in mBlock.
mBlock 5 works on PCs with MacOS, Windows and mobile devices with iOS and Android.
WiFi and Bluetooth connectivity
The integratedWiFimodule allows the HaloCode board to be connected to the Internet, and an additionalBluetoothmodule allows more boards to be connected locally. The Halocode has been specially designed to teach programming for the youngest. It is suitable for creating experiments and various exercises with AI (artificial intelligence) and IoT (Internet of things). Two or more HaloCode devices, thanks to these connections can create a LAN network and communicate with each other, creating complex systems.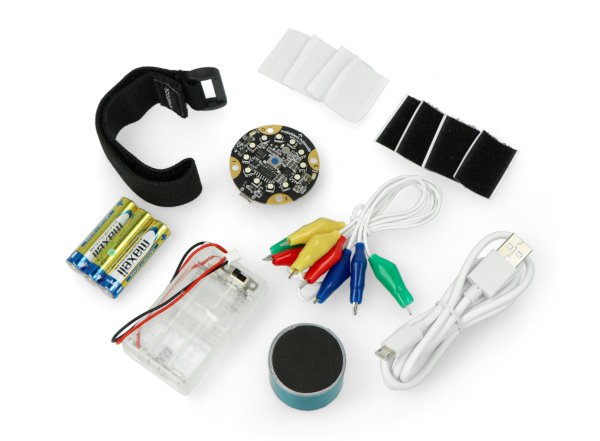 Set contents.
Set contents
1 x HaloCode board

1 x basket for 3 AAA / 1.5 V batteries
3 x Battery AAA / 1.5 V
1 x microUSB cable
4 x Crocodile clamps
1 x Copper tape
1 x Velcro strap
4 x Velcro fasteners
Operating instructions + instruction sheets
HaloCode specification
Feature
Description
Chip
ESP32
Processor

Core: Xtensa dual-core 32-bit LX6 microprocessor




CPU Clock Speed, 240 MHz

Communication

WiFi / Bluetooth / microUSB port

Built-in memory

Flash ROM 440 KB, RAM 520 KB

Extended memory

SPI Flash 4 MB, PSRAM 4 MB

Components on board

12 RGB LEDs

Position sensors (accelerometer and gyroscope)

Microphone

Button

4 touch sensors (I/O pins)

Supply voltage

From 3 V to 5 V

Operating voltage

3,3 V

Dimensions

Diameter 45 mm

Net weight

10 g