Description
Set allows you to build educational fighting robot minisumo class. While working on the design, the user will gain knowledge about the development and implementation of electronic circuits, and develop software for microcontrollers.
The full instruction course for the robot manufacture is available on the robotics forum forbot.pl. The lessons are written in a simple and understandable by an author of many interesting articles.
Hand made robot in accordance with the rules of the minisumo competition, and therefore can participate in numerous robot tournaments organized in Poland. The schedule and venues of the competitions can be found in the calendar here.
Additional items
In addition to the items included in the package, the user needs also a rechargeable battery with charger, wheels and motors with gear. These elements were not added to the set intentionally to allow users to select components based on individual needs. For starters, you can just use the motors and batteries you already have at home.
Motors
The designers of the best robots currently use with mikromotors Pololu HP with reducer 30:1 or 50:1. For installation using special plastic mounting or a more durable version of aluminum. An alternative may be to use angular motors or modelins motors (without the reducer, you should do it yourself). The user needs two power units, for each wheel one at a time.
Wheel
Very popular among robots creators are wheels from the brands Pololu and the Solarbotics. The undoubted advantage is their easy installation. They have a hole fit for 3 mm shaft of micro motors and angular motors. The best designs use a tire molded from special materials (more information in article: the casting of the tire). In the case of Solarbotics wheels, you can use their rimb to set your own tires.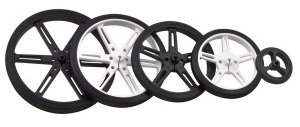 Battery and charger
Buying charger and battery consumption is an expense for the future. Dynamic robot specialist, sooner or later, will have to purchase a kit of this type. In addition, taking into account the frequency of replacing conventional batteries, would be that the cost of buying the battery and charger will pay off quickly.
The most recent power source are rechargeable batteries, Li-polymer. They are of small size with high performance loads. When choose the right package the key parameters are size (the robot must be in a square 10 x 10 cm) and weight (according to the rules of design can not weigh more than 500 g). The user can select any battery from our offer, which will be useful in future projects.
Batteries lithium polymer require special chargers with a balancer. In our offer we have a simple charger without the possibility of setup and configuration. However, if the purchase of this set will be the beginning of a long adventure with robotics, we recommend a fast, powerful, customizable chargers Redox.
Set includes:
Laminate FR4 unilateral 200 x 110 mm (+/- 20 mm)
Etchmaster B327
The RF800 liquid flux in
The microcontroller Atmega8A with a stand
2 x L293D motor driver with stands
2 x optocoupler diffusion CNY70 to detect lines
Optical distance sensor Sharp GP2Y0A41SK0F operating in the range 4-30 cm
The stabilizer LM1117 LDO with an output voltage of 5 V
10 x electrolytic capacitor 100 uF
10 x electrolytic capacitor 47 UF or 22 UF replacement
10 × 100 NF capacitor ceramic
30 x resistor 10 kω
30 x resistor 220 Ohms, or instead of 240

Ohm

30 x 1K resistor
2 x LED 3 mm
10 x inductor axial 10 uh
The quartz resonator 8 MHz