Product description: Photon EDU Robot set with ChromeTab 10"
Photon's technologically advanced interactive educational robot is designed for children from 3 to 18 years old. It uses mobile applications, thanks to which children learn about the world of new technologies and learn how to program the Photon robot from scratch. The educational toydevelops skills such as: creativity, logical thinking, basics of programming, understanding the sensors it is equipped with. The robot has a built-in2600 mAhbattery,powered by a microUSB cable. A 10" Chromebook Tab 10" tablet is included.
The robot is safe for children.
The robot was developed in close cooperation between children and a team of psychologists from SWPS University. The educational toy does not require a network connection, replaceable batteries or direct access to electronic circuits.
Possibilities of the Photon robot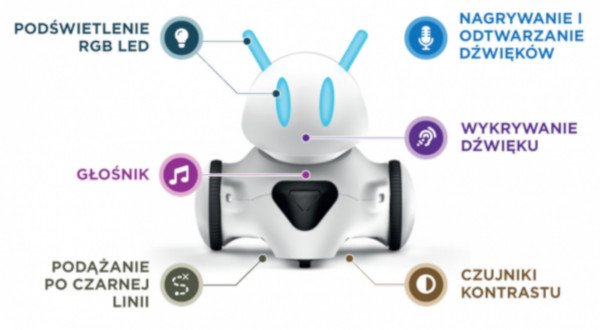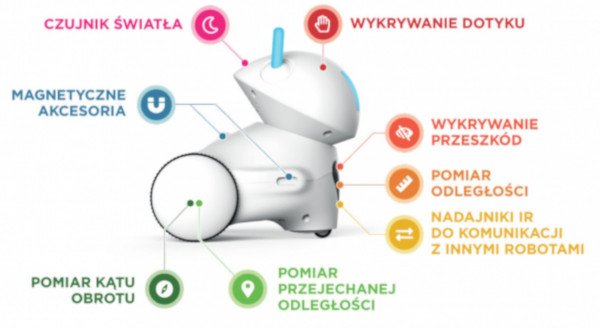 A robot for children of all ages
The tablet application is based on an interesting story and consists of 10 chapters. Each chapter contains 20 challenges for children, which gradually teach them from the basics of programming, testing, sensor experimentation, memory exercises, reaction speed and decision making.
Programming for children
Different interfaces are used to program the robot, depending on the age of the children. Photon Draw is aninterface designed for 5+ preschool children. It is based on programming the paths that the robot will travel through by drawing with a finger on the screen. On the path you can determine the behavior that the robot will perform. This programming method teaches, among other things, planning and develops spatial orientation.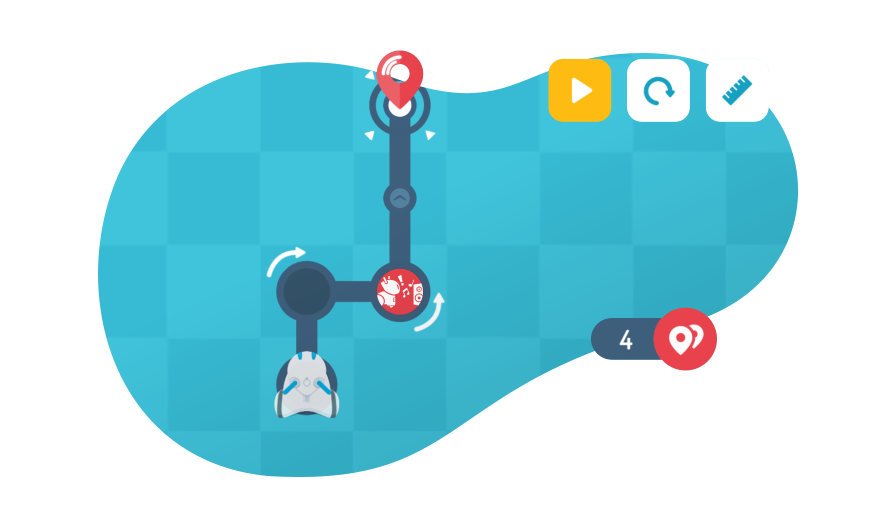 Photon Draw interface (5+).
Photon Badge interface for children from 6 years old. Allows you to program the robot with instructions in the form of symbols. Children create a path according to the instructions in the task. In this way they develop the skills of error detection, planning and prediction.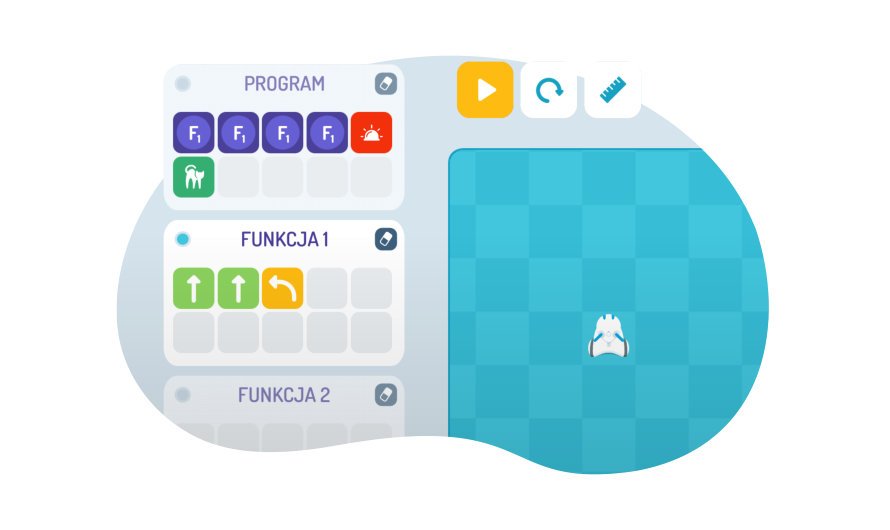 Photon Badge interface (6+).
A Photon Block interface has been created for children who can already read. At this stage, they create complex operations and configure the sequences using colored instruction blocks. In this way, children develop analytical skills and learn to design complex sequences of the program using sensors.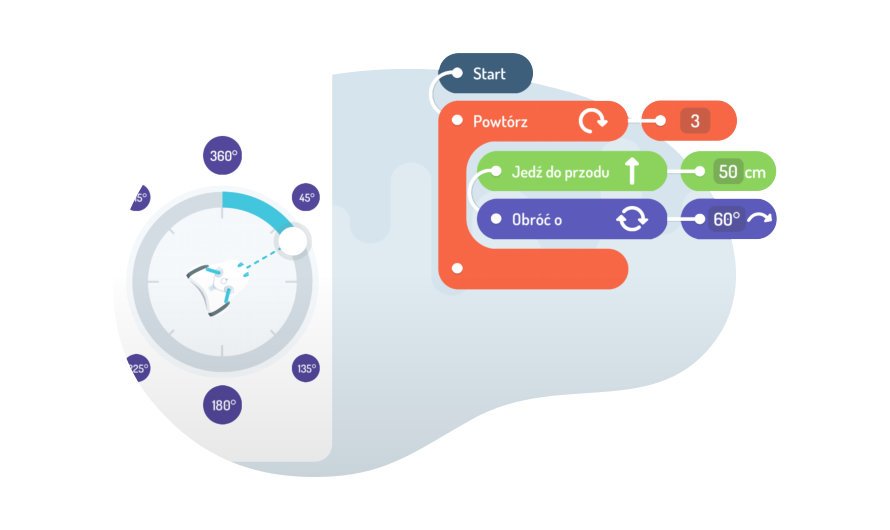 Photon Blocks (7+).
Photon Code is an introduction to real programming. The interface is designed for children from 10 years old. Children work in English, they arrange ready-made blocks of text to create programs. Thanks to this they develop analytical skills and understanding of the code contribution structure.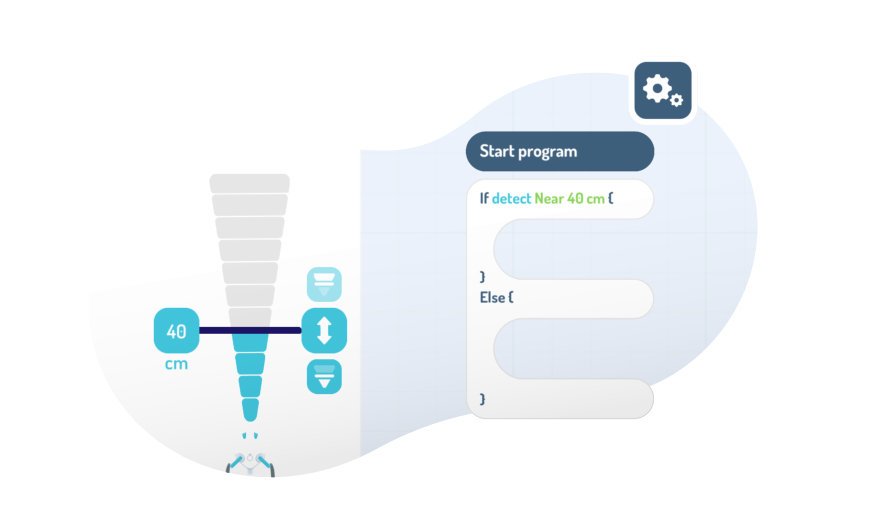 Photon Code (10+).
Programming for older people
Desktops or laptops can be used to program the robot in high schools. Photon can be programmed in JavaScript and Python. JavaScript is the most popular scripting language, which allows you to learn the basics of programming and create advanced code logic. Students develop multifaceted reasoning skills, learn how to program and develop teamwork skills.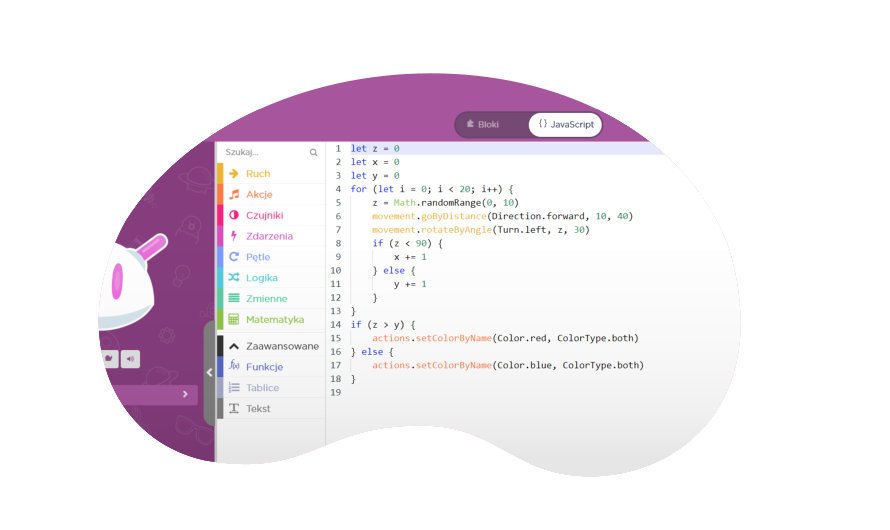 JavaScript.
Python is a universal programming language that is often used by professional programmers. Students gain unlimited possibilities of creating software by extending the features of Photon.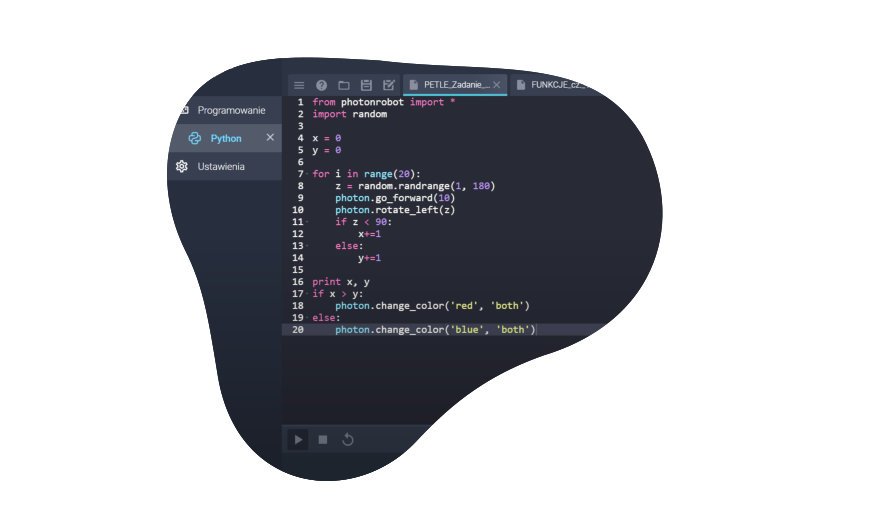 Python.
Integration with Makey Makey
The Photon robot and MakeyMakey set can be used both in technology, to learn programming and in physics when discussing the issues of power conduction.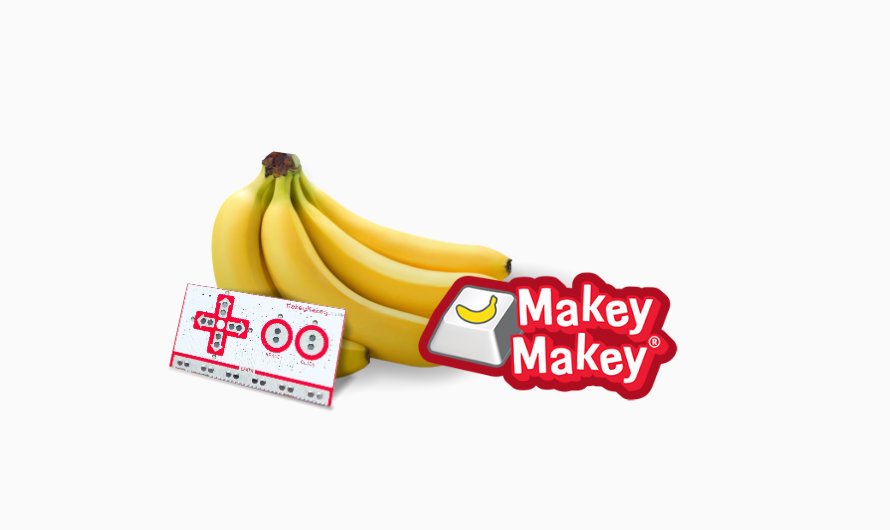 Integration of the Photon robot with Makey Makey.
Photon robot specifications
Power supply: built-in 2600 mAh battery (9.62 Wh)
Battery charging via microUSB cable (supplied) up to 3 hours (the robot indicates charging by green sensors)
Connectivity: Bluetooth 4.0
Up to 8 hours of fun
Built-in sensors: contrast, light, touch, obstacle detection, IR transmitter for communication with other robots, distance measurement
Robot dimensions: 172 x 170 x 190 mm
Weight: 690 g
Acer Chromebook Tab 10" Tablet
Very efficient 10 inch black tablet, starts up in a few seconds. The device has a Chrome operating system uploaded, which updates automatically every 6 weeks. Chromebooks support the active directory, so they can access Windows-based networks.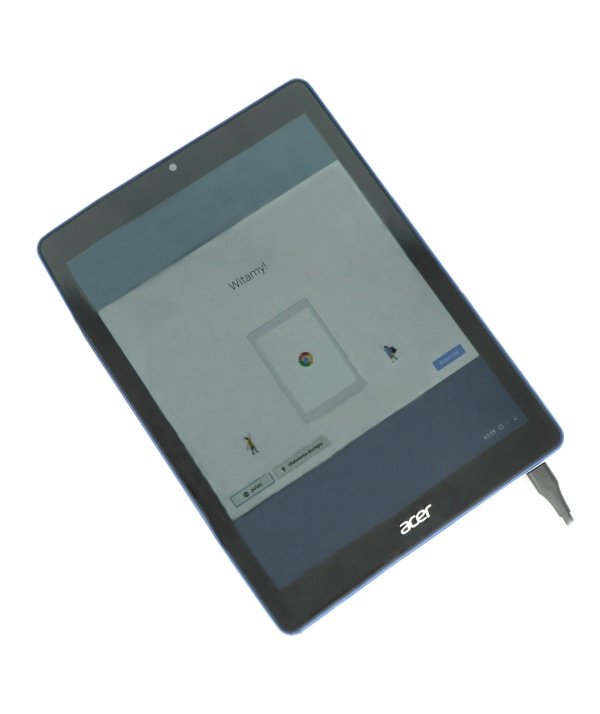 Tablet parameters
Colour: black
The screen: 9.7" QXGA IPS Multi-Touch LCD
CPU: dual-core Cortex - A72 + quad-core Cortex-A53
Capacity: 32 GB eMMC
RAM: 4 GB
Communication: Wi-Fi, Bluetooth 4.0
Camera: front 2 Mpix, rear 5 Mpix
The system: Chrome OS
Power input: USB Type C (charger with cable included)
Included: Stylus Pen
The set includes
Photon Educational Robot
MicroUSB power cord for the robot
Acer Chromebook Tab 10" tablet
Power supply with USB cable C
User Manual for the robot and tablet
Useful links
Photon EDU
Photon Coding
Photon Robot

Free sample scenarios to download: