Product description: Photon Special Educational Needs Module
The Special Educational Ne eds Activity Set consists of the Photon robot, two educational mats and 50 exercises for pedagogical therapy and remedial classes with students with autism spectrum disorders or emotional and social disorders. The exercises are suitable for pre-school children, students of early school education and students in grades 4 to 6. The suggestions for tasks included in the set provide for individual and group work. The exercises can be used as separate suggestions for fun activities with students or they can be elements for creating lesson plans. You do not need any programming experience to use the kit.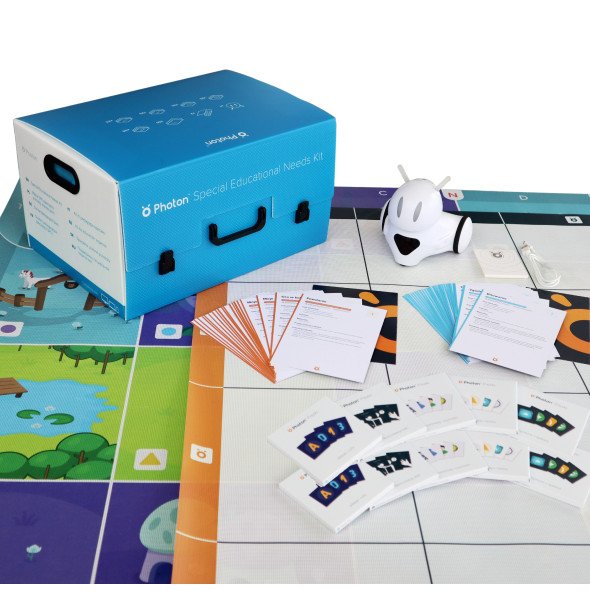 The Special Educational Needs module contains exercises designed for children on the autism spectrum and emotional and social disorders.
What will you gain thanks to the kit?
The materials of the kit allow for easy conducting of individual and group activities
You will find all the necessary elements of the set in one, portable box
30 exercises for children from the autism spectrum, grouped in three areas (communication, cognitive area, social area)
20 exercises for improving social-emotional skills
Authors of the Special Educational Needs Module
The authors of this set are teachers and therapists who work on a daily basis with children with special educational needs. They are Renata Idzik, Agnieszka Setnikowska and Małgorzata Rabenda.
Contents of the set
Organizer
Photon robot
USB cable
Mat (blank grid)
Welcome card
A set of 20 exercises - social-emotional competences
Set of 30 exercises for children on the autism spectrum
5 sets of flashcards:

Emotions, objects and activities
Pictograms - AAC communication
Locations, figures, and colors
Alphabet and numbers
Symbols from the application

User Manual