Description
Minicomputer ROCKPro64 with a powerful processorRK3399 RockChip Dual-Core Cortex-A72 2.0 GHz +Quad-Core Cortex-A53 1.5 GHz. The board has2 GB of DDR4 RAM, aGigabit Ethernetport,HDMI(4K), 2 x USB 2.0, USB 3.0, 2 x 20 GPIO connector for microSDmemory cards,mini-Jack3.5 mm connectorl 4 x PCI-e and CSI, DSI and eDP. It works with, among others, systems Debian, Ubuntu, and Android. The device is compatible extensions for Raspberry Pi.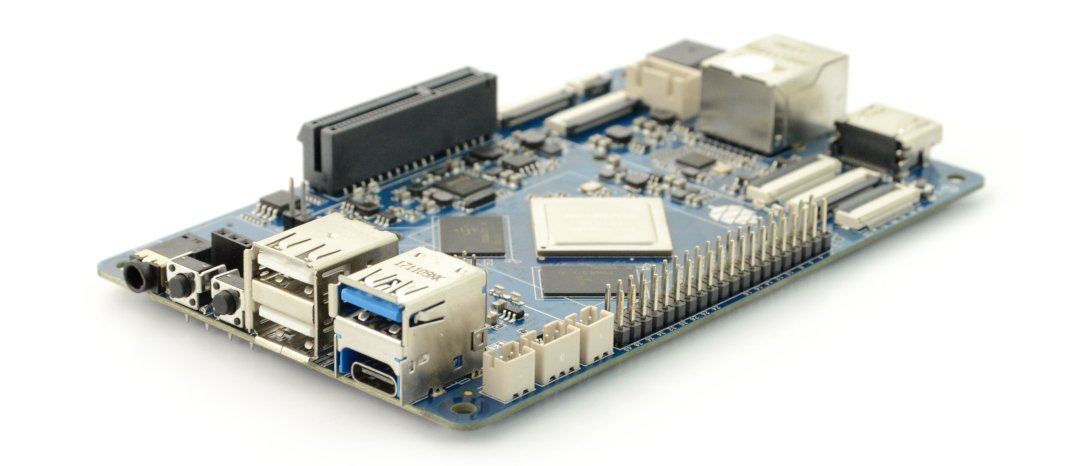 The device has 2 x USB 2.0, 1 x USB 3.0 type C, connector HDMI, Ethernet port and many others.
How do you start the minicomputer ROCKPro64?
Operating system
ROCKPro64 works with multiple systems, in particular with Debian, Ubuntu, and Android. The disk of the device is the the microSD cardor eMMC.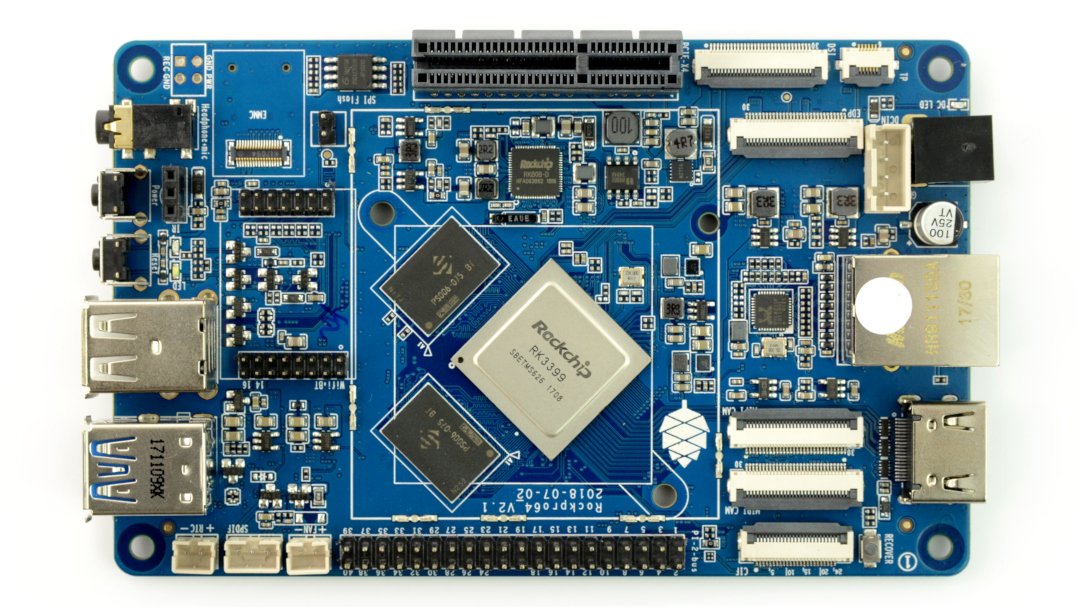 Communication
ROCKPro64 has communication interfaces that can be found in office PCs. The user has at their disposal:
two USB 2.0 ports,which can connect, for example, a mouse, a keyboard, a wi-fi card or USB flash drive. If you find that the slots are too short, you can increase their number usingan external USB HUB.
Ethernet connector, that is the ability to directly connect to the network.
GPIO x 40 pins, gpios that can be used to control the LEDs, buttons, drivers, engines. Among them there are pins that supports interfaces: I2C, SPI and UART. Compatible withextensions for Raspberry
microSDslotfor memory cards microSD, which can have an operating system

installed

.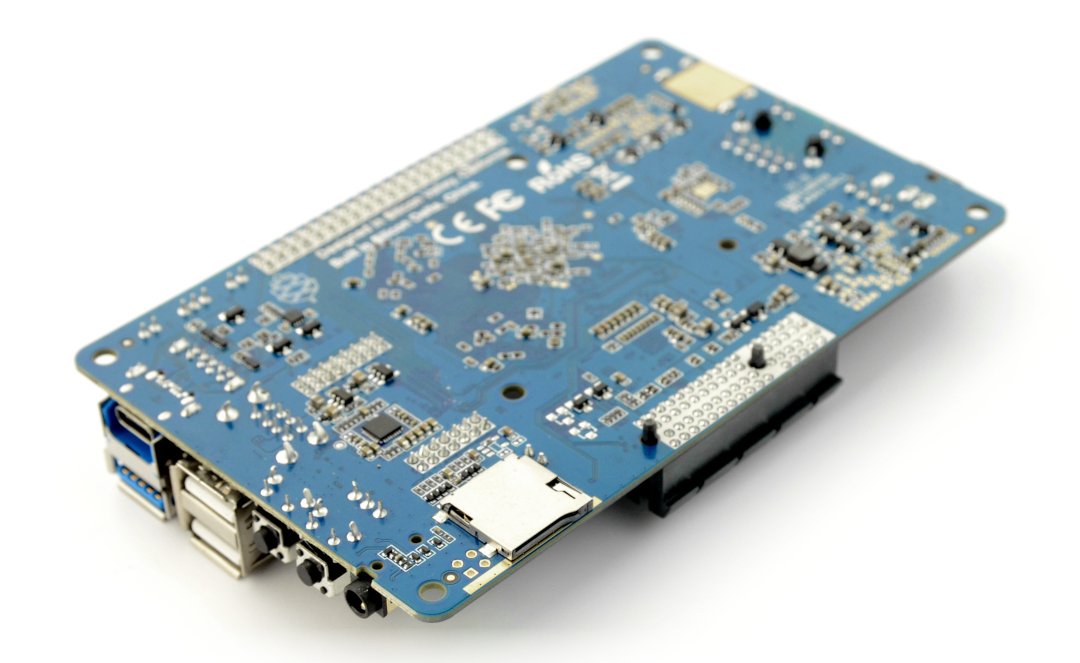 ROCKPro64 has a connector formemory cards microSD. Card not included, it can be purchased separately.
Power supply
As a power source, the system uses a DC connector 5,5 / 2,1 mm. Manufacturer recommends that the voltage indicated on the plug has a value of 12V, a maximum output current of the used adapter needs to be at least 3.0 A or 5 A. In our offer you will finda dedicated power supply.
Attention!
If you connect more devices to the board, (such as: hard disk, PCI-e) the minicomputer needs more power, in this case the manufacturer recommends to use a power supply 5 A.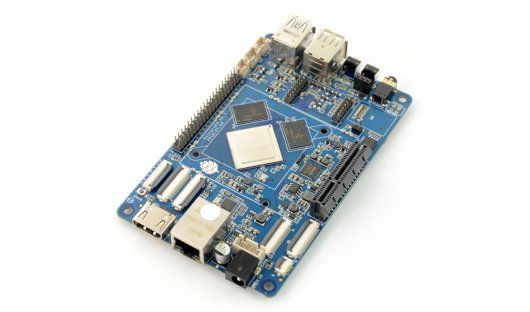 ROCKPro64has aHDMI port through which you can sens both image and sound in 4K.
Specifications and comparison
Basic information
Model
Raspberry Pi 3 model B+
ROCKPro64
Edition
3 - by 2018.
2018.
Technical specification
Core
Quad-Core ARM Cortex A53

Quad-Core ARM Cortex-A54

Dual-Core ARM Cortex-A72

Operating systems

Linux Raspbian

Windows 10 flight

Debian

Ubuntu

Android, etc.

Clock frequency
1.4 GHz
1.5 GHz + 2.0 GHz
RAM
1 GB LPDDR2 @ 900 MHz
2 GB DDR4
Memory
microSD memory card

microSD memory card

eMMC

Connector GPIO

Connector 40-pin (2x20 pin)

raster 2.54 mm

Connector 40-pin (2x20 pin)

raster 2.54 mm

Power supply

A 5.1 V / 2.5 A

via microUSB

12 V / 3 A / 5 A

DC 5.5 / 2.1 mm

Board size
85 x 56 x 17 mm
133 x 80 x 19 mm
Interfaces
USB interface
4x USB 2.0 - connector type a

2x USB 2.0, connector type a

1x USB 3.0 connector type a

1x USB 3.0 connector a type C host

Network interface
Ethernet port 10/1000 Mbps
Ethernet port 10/100/1000 Mbit / s
Wi-Fi Interface

Dual Band (2.4 GHz and 5 GHz

802.11 b/g/n/ac

no dedicated plug

Bluetooth
Low Energy, BLE 4.1
no dedicated plug
Camera
the CSI connector
the CSI connector
Touchscreen display
connector for DSI
connector for DSI
Video
HDMI HD 1080px / 30 fps
4K (3820 x 2160 px)
Link
UART, SPI, I2C, GPIO

UART, SPI, I2C, GPIO, I2S, S/PDIF

Additional

PCI-e 2.1