Specification
| | |
| --- | --- |
| Power supply: | 3 V - 9 V |
| No load current (6V): | 70 mA |
| Current when stationary shaft (6 V): | 1600 mA |
| No-load speed (6V): | 32 rpm |
| Torque (6V): | 9,0 kg*cm (0,882 Nm) |
| Gear ratio: | 1000:1 |
| Shaft diameter: | 3 mm |
| Body dimensions: | 29.5 x 10 x 12 mm |
| Weight: | 10 g |
| Duplex shaft: | NOT |
Attention!
Specified torque (9,0 kg*cm) is the theoretical value that the engine can produce 1000:1 HP. In practice, the engine stop may cause damage to the gearbox.
Description
Small, lightweight and powerful engines of Pololu are used by designers of robots as drive units. The devices can be supplied with voltage up to 9 V, they gain power output above 3 V. The optimum voltage at which the ratio of the power to strength is the most preferred, is 6 V.
The size of the engine
The motor's body is a cuboid with a size of 29.5 x 10 x 12 mm. Gearbox has a length of 9.27 mm. At the output is a 3 mm shaft in the form of the letter D. Overall weight is about 10 g.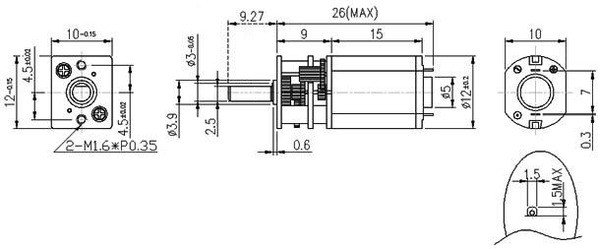 The figure shows the dimensions of the Pololu micro motor with gearbox.
Accessories
We offer a range of accessories that work with micro motors from Pololu company:
In the case of micro motors 1000:1 and 1000:1 HP, mountings do not cover the entire gearbox.
Wheels, caterpillar tracks, hubs, encoders
In our offer are also wheels and caterpillar tracks fitted to shafts of Pololu micro motors. Available is also a special version of the wheels that has encoders measuring the rotation speed. Installing unconventional wheels is facilitated by adapter.
 
Motor's drivers
Control of the direction and rotation speed is enabled by the drivers of the DC motors. The offer has available chips for self-soldering and chips ready to connect, working with the kits (e.g. Arduino), modules.
Video
Video from the final ride of the winning design called Impact, at the robot tournament T-BOT 2013. The robot made by us, has micro motors Pololu HP with gearbox 10:1.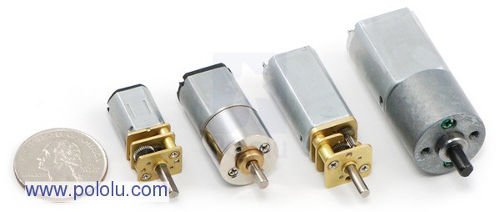 The store also offers many other engines.