Product Description: Raspberry Pi 3B WiFi kit + accessories
The kit includes a Raspberry Pi 3 mini computer model B 1 GB RAM with a protective housing and a 5 V power supply with a current capacity of 2.5 A. A 32 GB memory card with NOOBs system, HDMI and ethernet cable are included.
L.p.
Photo
Name
1
Raspberry Pi 3 Model B 1 GB RAM - popular minicomputer in the latest version with 64-bit 1.2 GHz processor, 1 GB RAM, built-in WiFi and Bluetooth module.
2
MicroUSB-tipped power supply - compatible with the Raspberry Pi mini-computer with a maximum current capacity of 2.5 A. Sent in black.
3

Case for the Raspberry Pi mini-computer - RS Proz flip-flop version, which gives access to audio, video, microSD power card and GPIO connectors. It is also possible to mount heat sinks. In order to choose another enclosure, please use the configurator.

4
Heat sink set - with adhesive layer for simple installation on mini-computer chipsets. The heat sinks are not required by the manufacturer, their installation is only recommended if the device will operate at maximum efficiency for a long time.
5

32 GB memory card with software

NOOBs -

which enables the installation of popular operating systems for the latest

Raspberry Pi 4B

minicomputer

. Read speed: up to 100 MB/sec, write speed: from 10 MB/sec.
6

HDMI cable - class 1.4, has gold-plated ends, and its length is 1.5 m.

7

Patchcord - category 5e Ethernet black twisted-pair cable with 2 m RJ45 connectors mounted.

Botland is an official distributor of Raspberry Pi minicomputers in Poland. When you buy from us you are guaranteed to receive an original minicomputer together with high quality accessories. Additionally, you support the Raspberry Pi foundation, thanks to which you help to develop a new version of the popular Raspberry Pi.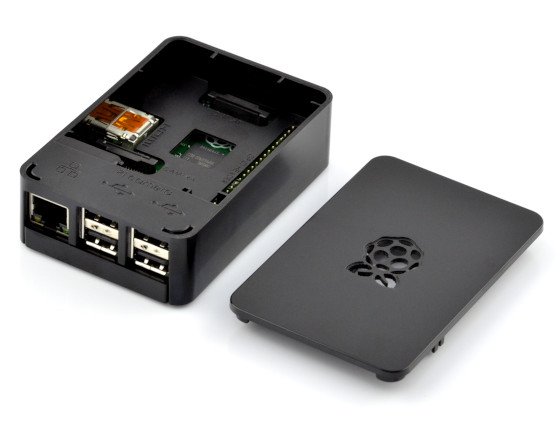 The enclosed case has the ability to remove the top cover, so you can easily connect the circuits to the GPIO Raspberry Pi connectors.
What's new with the Raspberry Pi 3?
Broadcom BCM2387 with 64-bit quad-core ARM-8 Cortex-A53 CPU, clocked at 1.2GHz.
Built-in WiFi 150 Mbps 802.11 b/g/n - the latest Raspbian / NOOBs system has built-in drivers
Built-in Bluetooth Low Energy BLE 4.1
The peripheral layout remains unchanged, the enclosures for version 2 will be compatible. However, the position of the LEDs has been changed so that they may not be visible in some enclosures.
Please refer to the specifications of the devicefor details.
Operating system
The raspberry drive is a microSD memory card. The operating system can be uploaded using a computer with a reader. In our shop there are cards with NOOBs program installed, which at the first start allows you to choose from the systems: Raspbian, Openelec, RaspBMC, OSMC Linux. You can also install Windows 10 IoT on your own.
A performance of the Raspberry Pi mini-computer.
Specification and comparison of the Raspberry Pi 2 and 3
Basic information

Model
Raspberry Pi 3 model B
Raspberry Pi 2 model B
Edition
3 - 2016 r.
2 - 2015 r.
Technical specification
Chipset processor
Broadcom BCM2837 64-bit
Broadcom BCM2836 32-bit
Core
Quad-Core ARM Cortex A53
Quad-Core ARM Cortex-A7
Operating systems

Linux Raspbian

Windows 10 loT

Linux Raspbian

Windows 10 loT

Clocking
1.2 GHz
900 MHz
Architecture
ARMv8-A
ARMv7-A
Memory RAM
1 GB LPDDR2 @ 900 MHz
1 GB DDR @ 400 MHz
Memory
microSD card
microSD card
GPIO socket

40-pin connector (2x20 pin)

raster 2.54 mm

40-pin connector (2x20 pin)

raster 2.54 mm
Power supply

5.1 V / 2.5 A

via microUSB

5,0 V / 1,8 A

via microUSB

Dimensions of the tiles
85 x 56 x 17 mm
85 x 56 x 17 mm
Interfaces
USB interface
4x USB 2.0 - socket type A
4x USB 2.0 - socket type A
Network interface
10/100 Mbps Ethernet port
10/100 Mbps Ethernet port
WiFi interface
802.11 b/g/n 150 Mbps
No
Bluetooth
Low Energy, BLE 4.1
none
Camera
CSI socket
CSI socket
Touchscreen display
DSI socket
DSI socket
Video
HDMI HD 1080px / 30 fps
HDMI HD 1080px / 30 fps
Communication
UART, SLEEPING, I2C, GPIO
UART, SLEEPING, I2C, GPIO