Description: Fan for Raspberry Pi 4B/3B+/3B/2B - Shim fan
The fan with Fan Shim stand for Raspberry PI allows direct cooling of the minicomputer without additional fixtures and housings. The base is equipped with an RGB LED which, after proper programming of the system, will indicate if the temperature is in the set standard and if it exceeds it, after exceeding the set temperature the LED turns red and the fan starts automatically.

Comparison of Raspberry Pi 4B temperatures without and with the Fan Shim kit.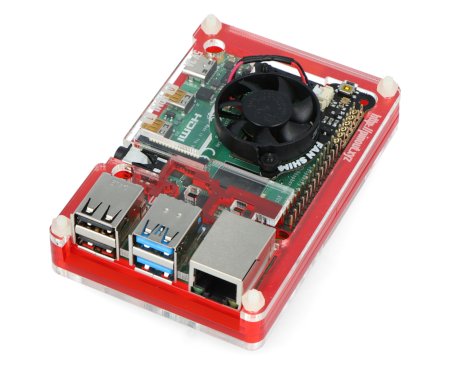 Connecting and programming the fan for Raspberry Pi 4/3B+/3A+ - Fan Shim
The manufacturer has prepared auser guideshowing how to easily assemble and start the fan. Additionally, the GitHub service offersa Python library,sample commandsthat can be used while working with the fan anda script for installing a programthat does not require user interaction.
Matching fan chassis for Raspberry Pi 4/3B+/3A+ - Fan Shim
The manufacturer has also prepared enclosures dedicated for the Fan Shim fan. They have enough space to accommodate the fan while protecting the entire surface of the board.
Fan specification for Raspberry Pi 4/3B+/3A+ - Fan Shim
Fan diameter: 30 mm
Power supply voltage: 5 V DC
Air flow rate: 0.05 m3 / min.
Operating noise:

18.6 dB

Speed: 4,200 rpm.

RGB LED: APA102
Screws M2.5
no soldering required