Product description: ArduCam USB2 Camera Shield Rev.E - control overlay for MIPI enabled cameras - ArduCam B0175
ArduCam USB2 Camera Shield Rev.E is universal overlay, with which you can control your camera via USB using Raspebbry Pi or PC. It's convenient to use thanks to Plug&Play function. The manufacturer also provides a ready-made SDK library and source code examples. The overlay from ArduCam supports various camera modules from 0.3 MPx to 21 MPx (or even higher). Not only does it support high resolution and high frame rate image sensors, but it can also be used with a stereoscopic camera. It features IRCUT control.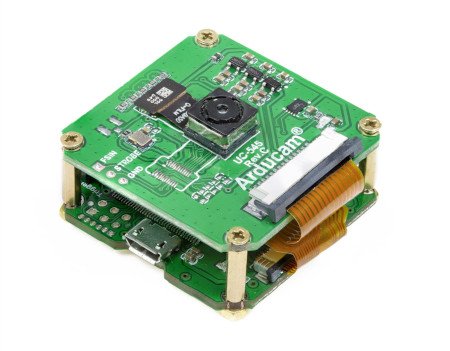 The overlay for camera control is the subject of this sale. The camera should be purchased separately.
Features of ArduCam USB2 Camera Shield
Support for MIPI interface image sensors
Support for 12-bit parallel image sensors
Support for x86, ARM 32/64bit hardware platforms
Support for Windows and Linux operating system
Supports 8/10/12/14/16 bit color depth
Stereoscopic mode support for dual camera system
Built-in IRCUT control
Overlay technical specifications
Throughput: 480 mbps USB 2.0
Input/Output voltage standard: 3,3 V
Power consumption: 5 V / 300 mA
Connector: microUSB 2.0
Camera data bus: 16bit / 100 MHz
Operating temperature range: -10°C to 55°C
Dimensions: 40 x 40 mm
Weight: 20 g
Package contents
ArduCam USB2 Camera Shield (Rev.E)
MicroUSB 2.0 cable
FPC connecting tape - 15 pin 1 mm to 22 pin 0.5 mm - length 150 mm
FPC connecting tape - 22 pin 0.5 mm - length 80 mm
In our offer you will also find an adapter to connect with the overlay.