Product description: 4.3'' 800 x 480 px DSI LCD capacitive touch screen with protective casing - for Raspberry Pi - Waveshare 18645
Touch capacitivedisplay for Raspberry Pi. The screen diagonal is 4.3'' and the resolution is 800 x 480 px. It supports up to 5 touch points simultaneously. The screen shell is made of tempered glass with 6H hardness. It also comes with a fan case for convenient storage of the Raspberry Pi and the screen.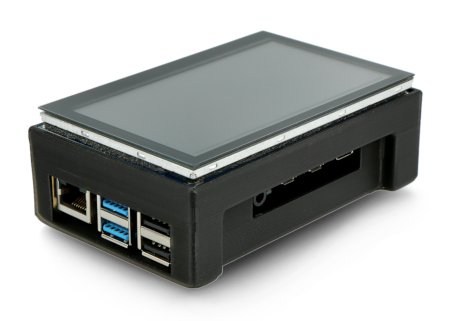 4.3" LCD touchscreen display from Waveshare.
The kit does not include the Raspberry Pi module. You can purchase it separately from our store.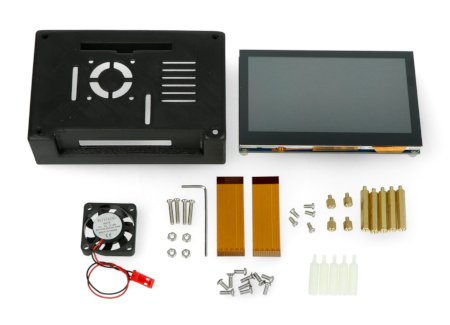 Contents of the kit with display from Waveshare.
Technical specification
Display type: touchscreen
Touch type: capacitive, 5-point
Surface: tempered glass 6H
Supports Raspberry Pi versions: 4B / 3B+ / 3A+ / 3B / 2B / B+ / A+
Diagonal size: 4,3''
Resolution: 800 x 480 px
Viewing angle: 160°
Interface: DSI
Refresh rate: up to 60 Hz
Supported systems: Raspbian / Ubuntu / Kali / Windows 10 IoT
Dimensions: 111 x 73 mm
Set contents
4.3'' LCD screen
Case with 3D printing
Cooling fan
Mounting elements - screws and spacers
Allen screwdriver