Description
Shield allowing to obtain an image from a Raspberry Pi through GPIO connector, without the use of HDMI. It works with Raspberry Pi, version A+, B+, 2B and 3B. The module has support for resistance touch displays.
The presentation of the capabilities of Kippah.

The lack of HDMI decoder significantly reduces the cost of the module. It provides 18-bit image with the support of touch functions. It has acceleration of graphic, instant update which is almost the same as via HDMI. However, Kippah uses almost all pins of the GPIO. Pins from #2 to #21 are used for exclusivity, so no access to UART, I2C, EEPROM I2C and SPI interface. For the user are pins #22, #23, #24, #25, #26, #27 and USB ports.
Shield replaces the HDMI connector so you can't simultaneously use images from Kippah and via HDMI.
Shield is running with Raspbian with no extra configuration needed.
The device works with5 " and 7 "displays. The manufacturer provides auser manual to use the module.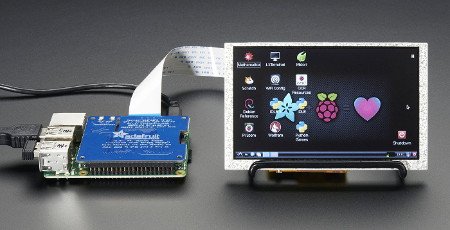 The subject of the sale is the shield.Raspberry Piandscreenscan be purchased separately.