Specification:
Supply voltage: 5.0 V
Current consumption: 20 mA
Output: analog voltage
The range of the output signal: from 0 to supply voltage of 5 V
The optimal distance of the sensor's operation: 3 mm
The maximum distance of the sensor's operation: 6 mm
Weight: 0.25 g
The set includes two QTR1-A sensor with goldpin straps: straight and corner.
Method of application
Connecting the sensor's output to the analog-to-digital converter (for example, integrated in the microcontroller or analog input in Arduino).
Connection using the comparator directly to the I/O pins.
Using the built-in in some microcontrollers, internal comparator.
Diagram of the system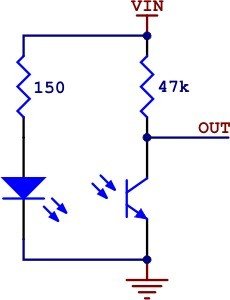 The scheme of connecting the QTR-1A sensor on the board. Resistor of 150 Ω limits the current flowing through the LED that emits the infrared. The 47 kΩ resistor is used to pull-up the collector output to the VIN supply voltage.