Product description: RLY-8-POE-USB - 8 relays 270V/10A - USB / Ethernet PoE driver
The controller with eight relays operating with voltages up to 277 V AC and current up to 10 A allows the control of devices supplied with mains voltage. The device is controlled via the USB port or Ethernet network using a free application. The module is powered by the power supply unit (included) or by PoE (from the Ethernet network).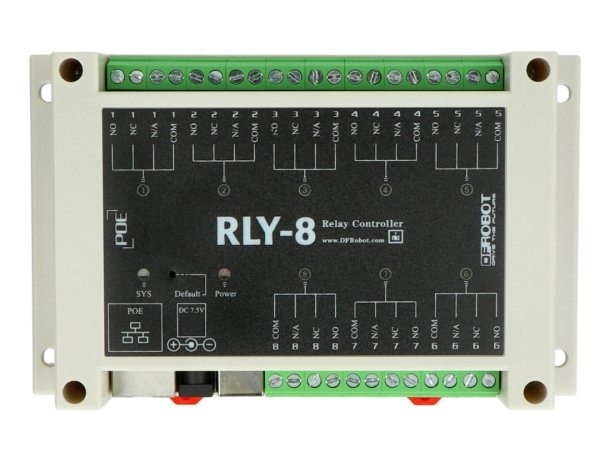 On the top panel, there areLED lightsthat signal the activation of individual relays.
The manufacturer provides a user guide together with detailed user manual of the module.
Main functions
Open Source communication protocol
Power supply via external power supply or PoE (from Ethernet)
Two control options: Ethernet or USB
Included PC software (downloadable from GitHub)
Rugged industrial class housing
Specification
Power supply to the module

External power supply: from 7 V to 23 V DC
From Ethernet PoE: 44 V to 57 V DC

8-channel relay
Switching power: 277 V AC / 10 A or 125 V AC / 12 A
Controller: STM32 series
Network configuration: DHCP or static IP address
Control method: USB cable or Ethernet network
Default IP address: 192.168.1.10 (port 2000)
Operating temperature: -30 °C to 85 °C
Dimensions: 145 x 90 x 40 mm
Weight: 530 g
The set includes
Controller with

RLY-8-POE-USB

relay
7.5 V / 2 A power supply unit with English plug


RJ45 Ethernet cable

USB cable type A - USB cable type B