Product description: Revolution Pi RevPi Core 3+ 16 GB eMMC
The RevPi Core 3+ minicomputer is based onRaspberry Pi Compute Module 3with aBCM2837B0 ARM Corte-A53 Quad-Coreprocessorclocked at 1.2 GHz. RevPi Core 3+ can be successfully used in industrial applications. It has been equipped with 1 GB of RAM,16 GB eMMC memoryand real time clock (RTC),as well as Ethernet port, two USB 2.0 connectors, microUSB port and microHDMI. The manufacturer of the device has prepared a specially modified version of Raspbian system with pre-installed feature supporting RTC. RevPi Core 3+ is poweredfrom 12 V to 24 V DC, and is enclosed in a housing with DIN rail mounting. The minicomputer supports Modbus and can be programmed in Node-RED environment.
Power supply for RevPi Core 3+
One of the most important components is the power supply of the RevPi Core 3+. Ahigh quality DC-DC converterwith an input voltage of24 Vand an efficiency of more than80%is used to obtain the highest efficiency and the lowest heat generation. RevPi Core 3+ can also be powered with lower voltage than 10.2 V, but manufacturer recommends to use min. 12 V. With 24 V power supply, loss of power for25 msdoes not affect RevPi operation (no load on USB ports). The device is protected against large discharges and electrical and electromagnetic interferences. The module is powered byscrew connectorslocated in the bottom part of the casing. Thanks toRTC chip, date and time will always be up-to-date.
RevPi Core 3+ interfaces
The RevPi Core 3+ has a number of important communication interfaces integrated.
An RJ45 Ethernet port for connecting to a LAN.
Two USB type A connectors, to which you can connect USB 2.0 client devices. Both connectors have 5 V / 500 mA output, which allows you to connect different types of USB drives,pendrives, without using an active USB hub.
The microUSB connector can work as a USB host system, e.g. to connect RevPi to the computer for the first flashing.
MicroHDMI connector for screen connection.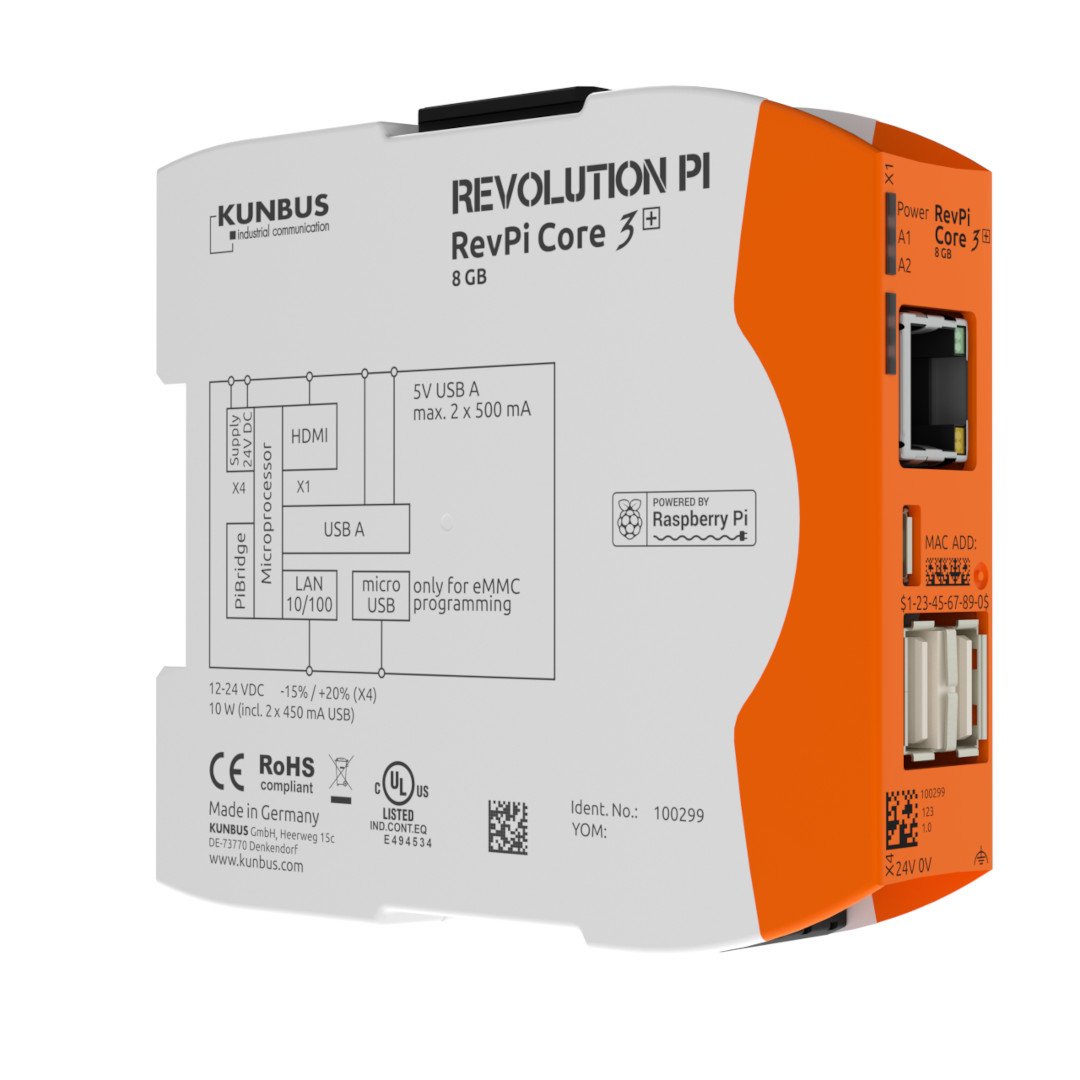 Revolution Pi RevPi Core 3+.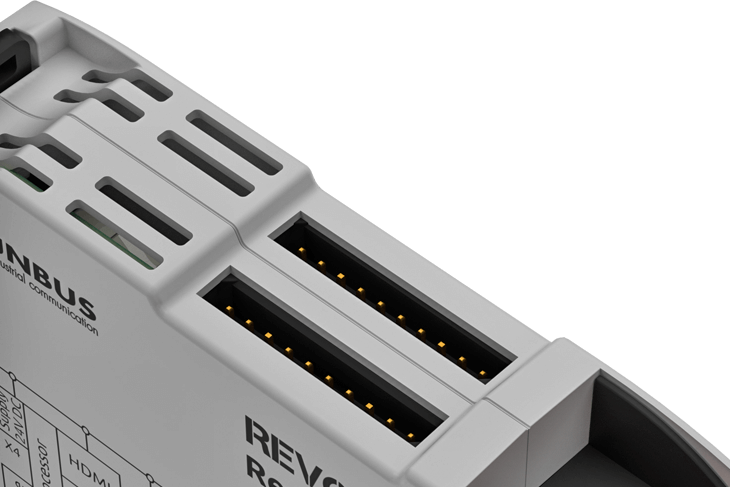 PiBridge connector on the Revolution Pi.
Modular design of the RevPi Core 3+
Revolution Pi RevPi Core 3+ is equipped withPiBridge connector,which is located on the top of the case. This connector is designed to connect the Revolution Pi expansion modules, these are:
4 PiBridge pins used to automatically detect the connected module when the RevPi starts up, the RevPi Core knows exactly what device is connected and what physical position it is in.
4 PiBridge pins for fast exchange of small data packets via RS485. This channel is also used to configure the module during the boot-up phase. Once configured, it is used for cyclic data exchange between the RevPi Core and all connected IO modules.
8 PiBridge pins for fast exchange of large data packets over the Ethernet port. Channel used only by gateway modules, which can cyclically accumulate up to 512 bytes of data from almost all buses.
RevPi Core 3+ meets industrial requirements
Revolution Pi aimed to make the Raspberry Pi industrially compliant to become a true EN 61131-2 compliant IPC.
Power supply: 12 V to 24 V DC, 10 W max.
Operating temperature: from -40°C to 55°C
ESD protection: 4 kV / 8 kV according to EN 61131-2 and IEC 61000-6-2
Shock tests: according to EN 61131-2 and IEC 61000-6-2
EMI tests: according to EN 61131-2 and IEC 61000-6-2
UL Certified (UL file number E494534)
Raspberry Pi vs Revolution Pi
Standard versions of the Raspberry Pi are small modules equipped with interfaces found in standard PCs. The Raspberry Pi Foundation has created an inexpensive boardfor educational purposes. The Revolution Pi modules were based on the Raspberry Pi Compute Module board, for which Kunbus created an evaluation board, creating a controller with the same specifications as classicPLCs. Revolution Pi was created forindustrialapplications with the possibility of expanding its capabilities through modules with IO interfaces and communication modules.
RevPi Core 3+ specification
Processor
Broadcom BMC2837B0 Quad-Core ARM Cortex-A53
Clocking
1.2 GHz
RAM
1 GB
EMMC memory
16 GB
Supply voltage
12 V to 24 V
Working temperature
from -40°C to 55°C
Storage temperature
from -40°C to 85°C
Operating humidity
93%
Degree of protection
IP20
ESD protection
4 kV / 8 kV
EMI test
According to EN 61131-2 and IEC 61000-6-2
Impact test
According to EN 61131-2 and IEC 61000-6-2
Compliance
CE, RoHS
UL certified
yes, E494534
Dimensions
111 x 22.5 x 96 mm
Interfaces
1x Ethernet RJ45
2x USB 2.0
1x microHDMI
1x microUSB
2x PiBridge (for RevPi Con modules)