Attention!
The product has been discontinued. Check other products in category.
Product description: Revolution Pi RevPi Connect+ 32 GB eMMC
TheRevPi Connect+industrial minicomputer is an open sourceIIoT(Industrial Internet of Things) gateway providing maximum freedom when implementing IIoT projects. The minicomputer is based on aRaspberry Pi CM3module with aBMC2837B0 ARM Cortex-A53 Quad-Coreprocessor clocked at 1.2 GHz. It has 1 GB of RAM and32 GB of eMMC memory, as well as RTC. The RevPi Connect+ is equipped with 2 Ethernet connectors, 2 USB 2.0 slots, a microUSB and microHDMI slot, and a screw connector forRS485communication. It is poweredfrom 12 V to 24 V. Operating system is specially modified version of Raspbian system with real-time patch. It supports popular IIoT interfaces such asMQTT and OPC UAto send machine data to the cloud. The device is programmed inNode-RED, Python, and C.The modular design allows the device to be expanded with additional I/O and communication modules.

2 networks - 1 device
RevPi Connect+is equipped with two RJ45 Ethernet ports, which enable simultaneous communication with the automation network and the IT network in order to transfer data e.g. from the production floor to the cloud or to the superior IT system.
RevPi Connect+ interfaces
The RevPi Connect+ offers a full range of important interfaces.
Two RJ45 Ethernet ports for simultaneous integration of the device into two separate networks.
A 4-pin RS485 connector for the connection of, for example, a Modbus RTU sensor.
Two USB A connectors, which can be used for USB 2.0 client devices. Both connectors can supply 5 V devices with up to 500 mA. It is possible to connect e.g. a USB drive, pendrive, without using an active USB hub.
The microUSB connector can work as a USB host system e.g. to connect RevPi to the PC in order to read data from eMMC memory. In this way you can flash the module using your computer.
MicroHDMI connector for screen connection.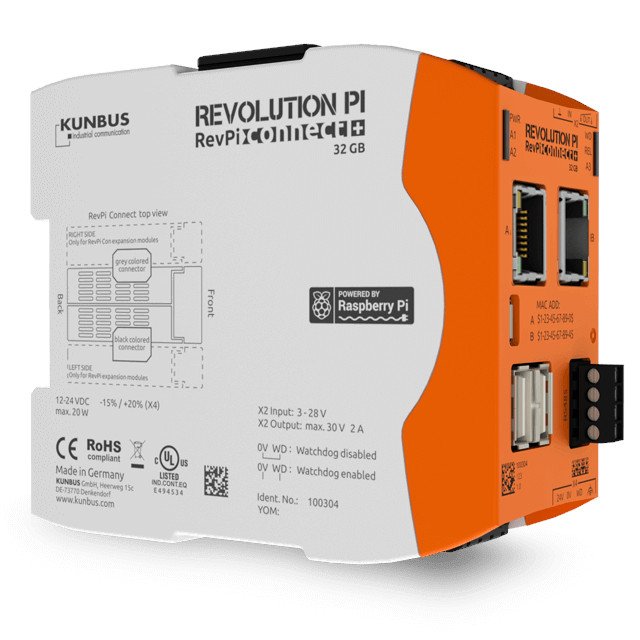 RevPi Connect+.
Watchdog
A hardware configurable Watchdog checks the status of the IIoT gateway and relay outputs, whether they are constantly operating or reset. The device additionally has a 24 V input for receiving UPS shutdown signals.
Industrial application
The main purpose of the RevPi was to provide the Raspberry Pi with an industrial capability to turn it into a true IIoT gateway. The RevPi has been encapsulated in a DIN rail mountable enclosure. The module is powered by 24 V and complies with the EN61131-2 standard.
Power supply: from 12 V to 24 V DC
Operating temperature: from -40°C to 55°C
ESD protection: 4 kV / 8 kV according to EN 61131-2 and IEC 61000-6-2
Shock tests: according to EN 61131-2 and IEC 61000-6-2
EMI tests: according to EN 61131-2 and IEC 61000-6-2
UL certified (UL file number E494534)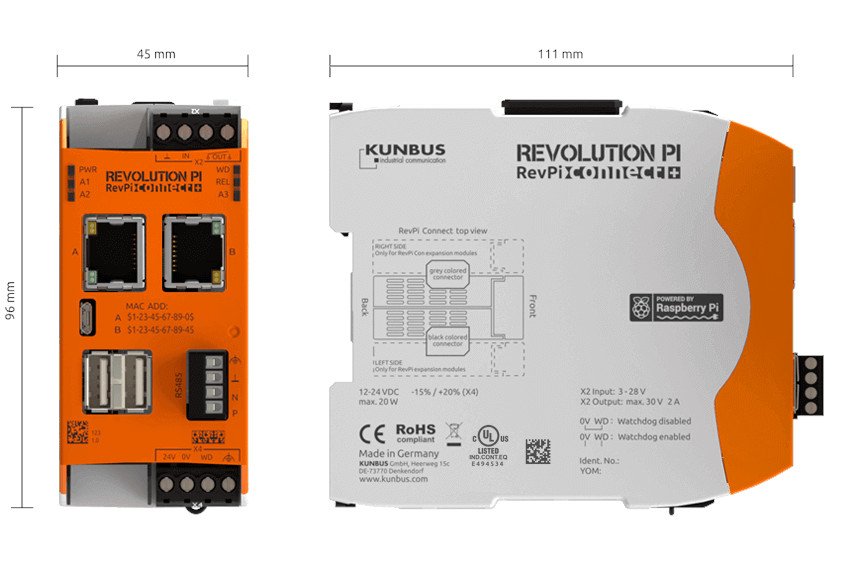 Dimensions of RevPi Connect+.
RevPi Connect+ specification
Processor
Broadcom BMC2837B0 Quad-Core ARM Cortex-A53
Clock speed
1.2 GHz
RAM
1 GB
EMMC memory
32 GB
Supply voltage
12 V to 24 V
Working temperature
from -40°C to 55°C
Storage temperature
from -40°C to 85°C
Operating humidity
93%
Degree of protection
IP20
ESD protection
4 kV / 8 kV
EMI test
according to EN 61131-2 and IEC 61000-6-2
Surge test
according to EN 61131-2 and IEC 61000-6-2
Compliance
CE, RoHS
UL certified
yes, E494534
Dimensions
111 x 45 x 96 mm
Interfaces
2x Ethernet RJ45
2x USB 2.0
1x microHDMI
1x microUSB
1x RS485
1x 24 V input
1x freely programmable relay switch
1x PiBridge (for RevPi extensions)
1x ConBridge (for RevPi extensions)