Description: Set of precision screwdrivers - 10 elements - v.2
A set of precision tools that should be in the workshop of every DIY enthusiast. Includes 2 ergonomic handles with non-slip grip and 8 screwdrivers. Among them there are 7 crossheads and one star screwdriver. The tools can be used for all kinds of service work.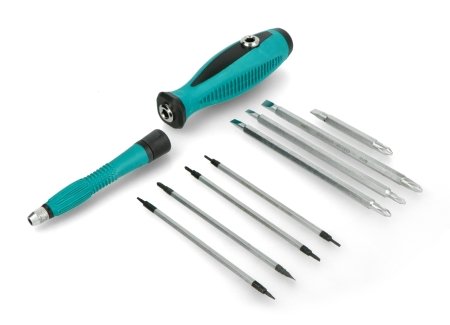 The set includes two handles with non-slip grip.
Contents of set
Handle with non-slip grip - 2 pieces
Screwdriver 70 mm long PH2
Screwdriver 120 mm long PH0, PH00, PH000 and star 0.8 - 4 pieces.
140 mm long PH1 screwdriver - 2 pcs.
Screwdriver 140 mm long PH2
We also offer other screwdrivers and wrenches.