Product description: SenseCAP wireless light intensity sensor - LoRaWAN 868MHz - Seeedstudio 114991727.
TheSenseCAP series ofwirelesslight intensitysensors allows you to monitor the intensity of light in a given area. SenseCAP sensors are highly accurate and stable, making them ideal for industrial systems and amateur environmental control projects.The sensor is powered by a built-in 3.6 V battery.The manufacturerdeclares that the life of the built-in battery is about 3 years.
Installation and configuration of the light intensity sensor.
LoRaWAN communication interface
Thesensor'swireless communication is based on the LoRaWAN protocol. The sensor's communication with the data server is very similar to the way of communication used in mobile telephony, the terminal devices, after collecting relevant information, send data to the base station, which then transports the data to the server from which we can display and analyze the data. This technology also allows us to create our own private networks, thanks to the use of LoRaWAN gateways. A great advantage of the applied LoRaWAN technology is a very long range of operation enabling connection with sensors even several kilometres away.

Communication using the LoRaWAN protocol.
Light intensity sensor in everyday work
The SenseCAP series allows you to improve your work in industries where weather and weather conditions play a key role, such as agriculture andtourism. The sensor manufacturer has also shared examples of how SenseCAP sensors can be used in day-to-day work conditions: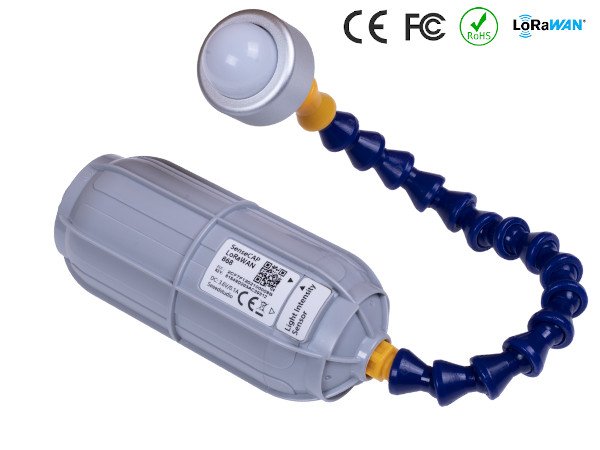 Thanks to LoRaWAN technology, the sensor can transmit data over very long distances.
SenseCAP sensor design
The SenseCAP series ofsensorsconsists of a master module that contains the data logger module, a communication module and a battery that powers theentiredeviceand a sensor modulethatcontains the sensor and the probe. The sensor modules can be used interchangeably with other SenseCAP sensor modules.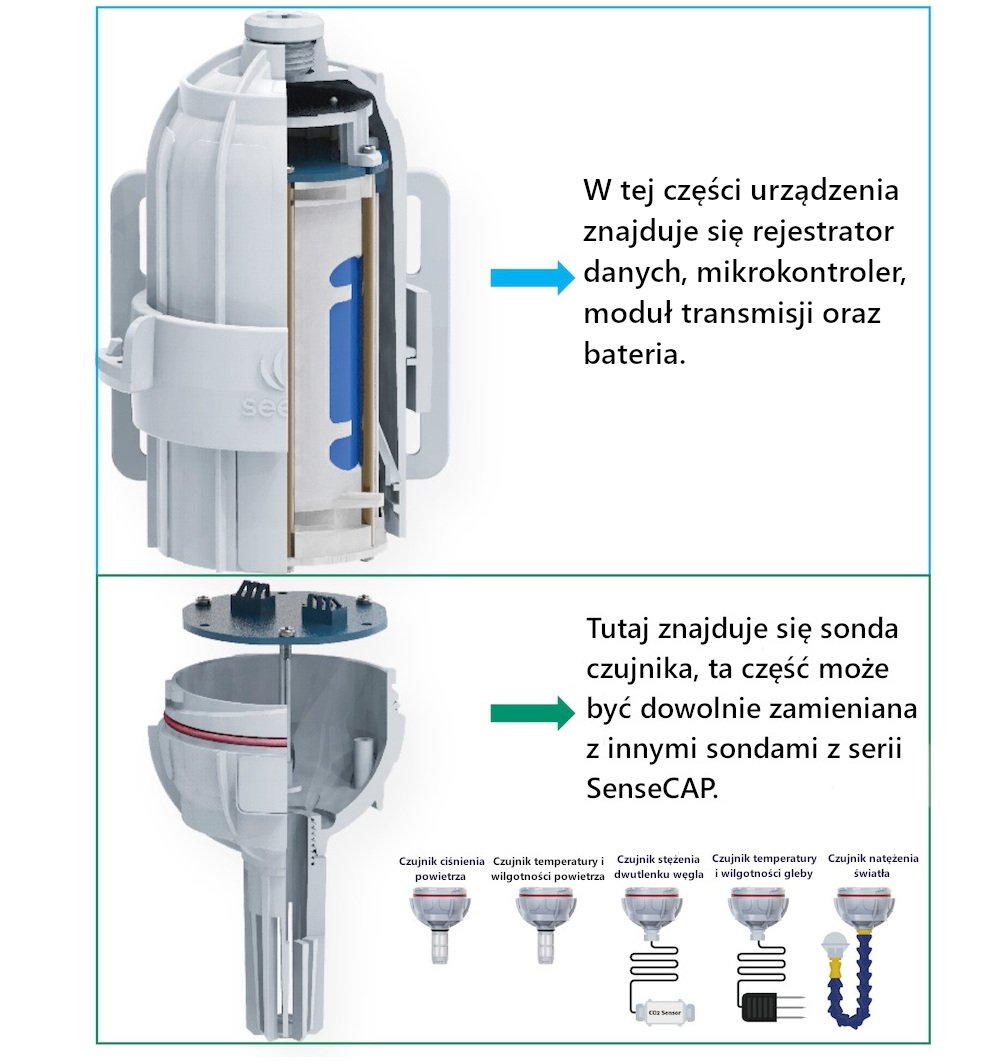 Modular design of the SenseCAP series.
Light intensity sensor specification
Measuring range: from 0 lx

to 188000 lx

Sensitivity: 0.045

Lux/LSB

Measurement resolution: 0.045

lx
Operating temperature: -40°C to 85°C
Operating humidity: from 0% RH to 100% RH
Battery voltage: 3,6 V
Battery capacity: 19 Ah
Immunity class: IP66
Resistance to UV radiation: UL746C-F1
Wireless communication range: from 2 km to 10 km
Weight of device: 288 g