Product description: eXtreme NTC31IU USB + Lightning 3,1 A Power Supply
Power supply with Lighthning cable for Apple devices and not only thanks to the additional USB socket. Output voltage is 5V, the maximum current capacity is 3.1 A. It has a protection system against overcharging and sudden voltage surges. The power sharing charger adjusts the amperage according to the needs of the connected device.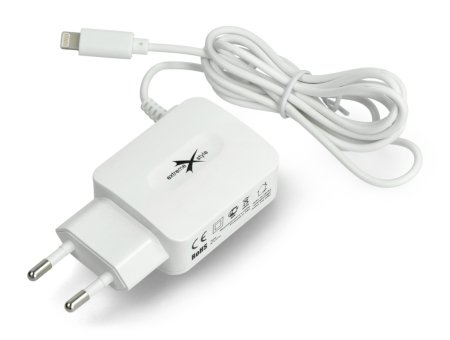 Lightning power adapter and USB port
Technical specifications of the power adapter
Output voltage AC 180 - 240 V / 50-60 Hz
Output voltage: DC 5V
Output current: 3,1 A
Color: white
Outputs

Cable with Lightning connector for Apple devices - length approx. 140 cm
USB type A socket
Power Supply eXtreme NTC31IU USB + Lightning 3,1 A
5V/3.1A eXtreme power adapter was designed to work with delicate electronic devices. Thanks to a number of modern protection systems, equipment is protected against overcharging and power surges from the mains.
The 5 V NTC31IU power supply is equipped with a 140 cm long cable with Lightning connector and an additional USB type A socket. This makes it possible to connect two devices for charging at the same time.
Modern DC Power Adapter from eXtreme
DC Power Adapter 5V/3.1 A can work with Apple devices thanks to the Lightning connector, but it is also possible to connect a second cable with a USB plug and any power connector.
Solutions used in the power supply 5 V NTC31IU allow you to divide the supplied power according to the current needs of each electronic device being charged.