Description
Tip-based soldering station with soldering iron. It has the ability to adjust the temperature in the range from150 °Cto450 °C. The total power is48 watts.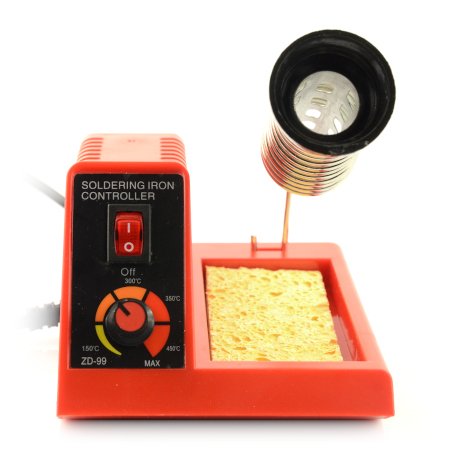 ZD99 soldering station.
Specification
Power Supply: 230 V / 50 Hz
Power consumption: 48 W
Temperature range: from 150 °C to 450 °C
Dimensions: 115 x 145 x 90 mm (198 mm with handle)
Included
Soldering station
Soldering iron
Standard tip
Soldering iron holder
Lined with sponge for cleaning soldering tips
First run
You should not run the device immediately after delivery.
Equipment must remain for about 12 hours at room temperature before switching on.
All complaints caused by running of the equipment too soon will be denied.
Our range of accessories for soldering:
The product is available in various colors, sent randomly.