Description: Stepper motor SY20STH30-0604A 200 steps/rev 3.9V/ 0.6A/ 0.017Nm
The bipolar stepper motor has a resolution of 200 steps per revolution, i.e. a full step takes place every 1.8 degrees. Current consumption is 600mA per coil at 3.9V. The holding torque is 0.18 kg*cm (0.017 Nm). There is a 4 mm D-shaped shaft at the output.
Wiring and wiring diagram.
Stepper motor dimensions
The motor base is a 20 +/- 0.2 mm square. The height marked as length is 30 mm.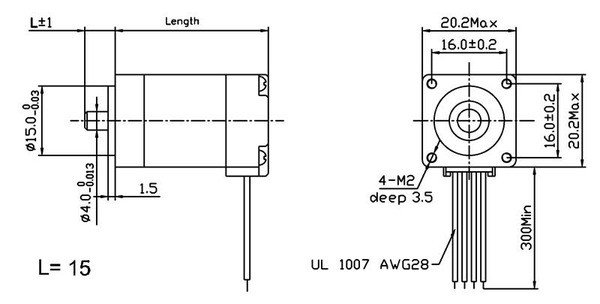 Accessories
Use of stepper motors:
printers
CNC equipment
3D printers
lasers
manipulators
Stepper motor specification SY20STH30-0604A
Number of steps/rotation: 200 (1.8 degrees)
Rated voltage: 3,9 V
Current draw per coil: 600 mA
Coil resistance 6.5 Ω
Winding inductance: 1.7 mH
Holding torque 0.18 kg*cm (0.017 Nm)
Shaft diameter: 4 mm D-shaped
Weight: 60 g
Dimensions: 20 x 20 x 30 mm (without shaft) - NEMA 8