Product description: USB-UART converter CP2104 - Polol 1308
The module based on CP2104 allows for data conversion between USB - UART standards. Using the converter, data can be exchanged between a PC equipped with a USB port and a microcontroller chip that supports a popular serial interface. Additionally, the chip has digital general purpose leads (GPIO) as goldpin connectors - 2.54 mm raster. CP2104 is compatible with popular FT232, so it can be used as programmer forArduino.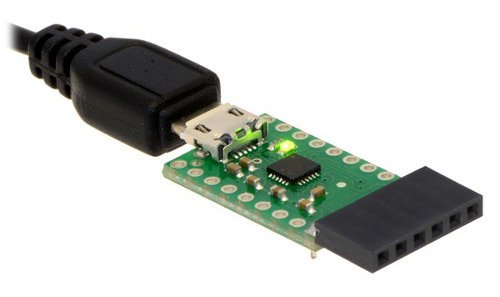 Default operating voltage is 3.45V, however the Polol module tolerates higher values, including 5V signals. In the operating system, the adapter is seen as virtual COM port, which means it can be used with any terminal or program supporting serial standard - RS232.The manufacturer providesdriversfor the systems:Windows XP, Windows Vista, Windows 7, Windows 8, Linux, and Mac OS X.
Queries .
Pin
Type
Function
VDD
Power
3.45 V voltage output
VBUS
Power
USB bus voltage (5 V)
GND
Power
Mass

RST

In
System reset
TX
Out
UART transmitter
RX
In
UART Receiver
CTS
In
"Clear to send" input
RTS
Out
"Ready to send" output
DSR
In
"Data set ready" input

(active in low state)

DTR
Out
"Data terminal ready" output (active in low state)
DCD
In
"Data carrier detect" input

(active in low state)

RI
In
"Ring indicator"

input

(active in low state)

SUSPEND
Out

High state when the USB bus is busy

SUSPEND

Out

Low state when USB bus is busy


(output connected to green LED)
GPIO.0
I/O
Digital inputs / outputs, general purpose
(GPIO)
GPIO.1
GPIO.2
GPIO.3
The outputs are populargoldpin connectors(2.54 mm raster), which enable connection of the sensor withwiresor direct connection to thecontact board.
GPIO leads
The module has four digital GPIO outputs, which can be controlled via aone-time programmingROM.For more details seedocumentation.
Change default operating voltage
CP2104 allows you to select the voltage with which the outputs work. The default setting is 3.45 V. To change this value to a lower one, solder the jumper at the bottom of the module. Other, lower voltage up to 1.8 V can be connected to VIO output.
Specification of CP2104 USB-UART converter
The tension of work: 3.45 V ( 5 V tolerance)
Interface: ISB 2.0
Interface: microUSB type B
Transmission speed: 300 bps to 2 Mbps
Current consumption: up to 25 mA
Dimensions: 15.3 x 24.2 mm
Included: module and goldpin connectors.