Product description: Battery Pack Rack 19'' for Armac UPS - 6 x 12V/9Ah - 72V
Battery Pack designed for Armac's rackmount PSW series uninterruptible power supplies. The product contains 6 x 12 V / 9 Ah batteries with a total voltage of 72 V DC. The device can be mounted in 19" server racks. The purpose of the Battery Pack is to extend the operation of the power supply, which may prove necessary in the case of uninterruptible power supplies used in server rooms or in IT facilities with large current demands. This type of protection helps avoid unexpected power outages and gives you extra time to save files or projects you have been working on before the computer shuts down.
Key features
Compatible with PSW Rack UPS's
Multiple Battery Packs can be connected together
Quick connection using the Battery Packs connector*
*NOTE: Take care not to connect the two battery pack connectors with one connection cable, as this will lead to a short circuit. Additionally, when connecting the Battery Pack, make sure that the total battery voltage of the UPS and the Battery Pack module is the same.
Battery Pack with 4 12 V / 9 Ah batteries.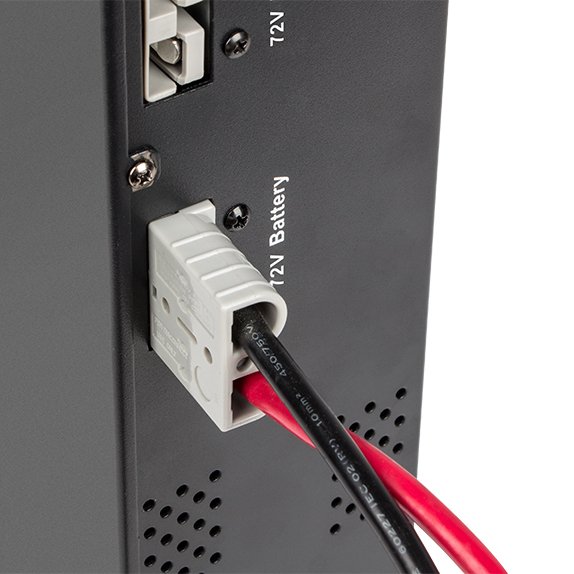 The unit is connected to the UPS by means of special cables with a pre-mounted plug, which makes the connection very easy.
Easy installation
The Battery Pack can be mounted in a rack using the special mounting ears. A stand is also included for vertically positioning the Battery Pack. All mounting elements have been manufactured with great attention to detail, ensuring that the unit remains securely in place once installed.
Technical Specifications
Size: 19"
Battery parameters: 6 x 12 V / 9 Ah
Total voltage: 72 V DC
Battery charging time: 4 to 6 hours to 90% capacity
Back-up time: depending on the connected load
Wire height: 2 U
Number of screws required: 6
Compatible with:

UPS: R/2000I/ONL R/3000I/ONL
Mounting rails: R/0019

Dimensions: 440 x 440 x 88 mm
Weight: 20.5 kg