What will you learn?
The main techniques that every JAVA developer should know

A technician who constantly appears in job offers

Multi-threaded programming

Use of the JPA standard

Practical solutions necessary for JAVA programmers

Designing applications in a modular way

Database storage technique

Basic functional programming
By choosing this course, you will learn much more!
Attention!
You will receive the download instruction and code from us at the address given when placing your order
e-mail at the latest on the next working day after receiving the payment.
Who is this course for?
This course is for people who have already mastered the basics of JAVA and are familiar with the main concepts such as variables, classes and methods. This training is a great opportunity for you to deepen your knowledge and skills, learnpractical techniques that you need to knowwhile writing each JAVA application. You will very quickly jump to the next level, you will find outhow to use your knowledge while writing real applications.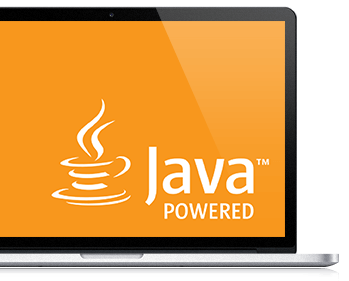 Multi-threaded programming
If you are a novice programmer, multithreading will be very important to you and at the same time quite difficult. But don't worry about it! The course will show you all themost important concepts of multithreading,from theclassic Thread classtoinnovative solutions in the form of CompletableFuture.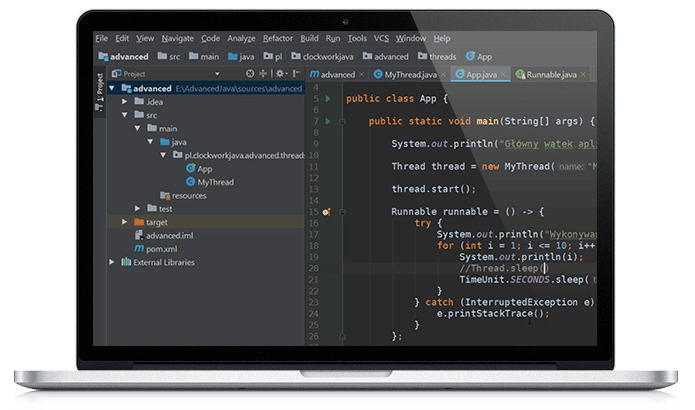 Functional programming
The real bestseller among developers is the functional approach to programming. You will surely meet with code created based on this paradigm. It is extremely important to learn all the basic concepts, practical techniques and advantages of functional programming in JAVA.In the course you will also learn abouthow to work effectively with Stream, Optionaland many other important things.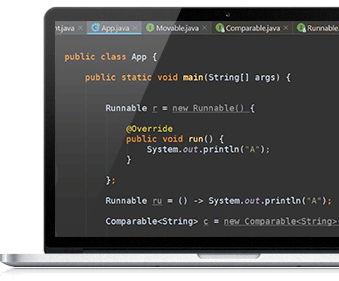 Data consistency
The main element of most of the applications that you will create at different stages of your programming career will be savingdata to the database.It is very important that you know how to approach this topic. This issue is explained in great detail.You will also learn about: JPA standard, JPQL andpractical techniques of working with PostgreSQL type database.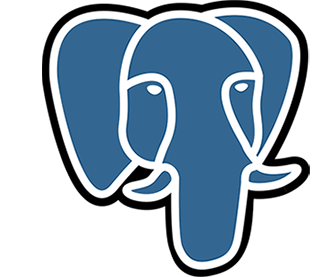 Modular architecture
Something completely new in JAVA 9 are the modules. In general, the modules allowto increase the level of encapsulation, and this is stillthe foundation of any well-designed code. You'll learn all that information with the course. You'll learn inhow to create modules and relationships between them.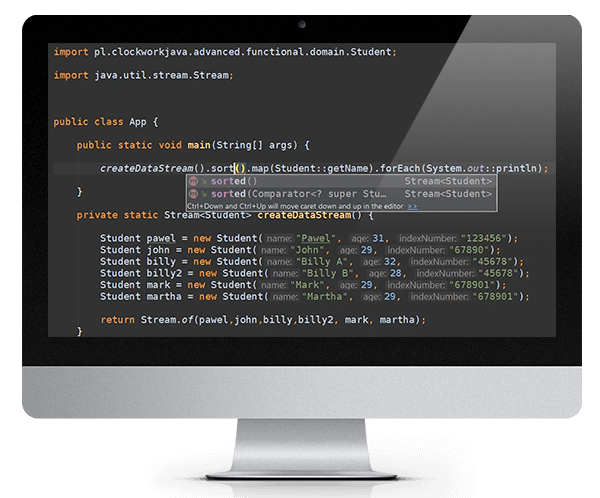 How to use the course?
When you buy a course you get access to our training platform. In order to use the course, you only need access to the Internet. The courses can be conveniently viewed through any browser or mobile application for Android and iOS.
Table of contents
Introduction
Introduction 01m

27s

Necessary tools 01m

58s
Multithreading
Basics 03m

55s

Creating a new thread - class Thread 09m

38s

Creating a new thread - runnable interface 03m 08s
Creating threads - Java 8 01m 28s
Thread or Runnable? 01m

28s

Thread.sleep() 04m

42s

.joint() 06m

02s

Executor Service 06m

30s

Fixed Thread Pool Executor 05m

23s

Executors and a half threads 03m 00s
Scheduled Executor 03m

25s

Callable and Future 04m

30s

Future 03m

02s

invokeAll(), invokeAny() 06m

21s

Completable Future 04m

54s

Completable Future - non-blocking call 10m

30s

Completable Future - call combination 08m

26s

Completable Future - error handling 02m 53s
Race Condition 07m

34s

Synchronized 05m

44s

Atomic classes* 03m

33s
Data consistency
Database configuration H2 05m

44s

JDBC 10m

32s

JPA 03m

16s

JPA/Hibernate configuration 10m

53s

Encja 07m

32s

CRUD 12m

54s

Embedded 05m

26s

OneToOne 12m

58s

Generation of the unique Id 04m

03s

Cascade operations 07m

28s

One-way relationship OneToMany 04m

48s

Bi-directional ManyToOne relationship 09m

59s

ManyToMany 06m

29s

JPQL - Basics 08m

20s

JPQL - Query parameterization 04m

41s

JPQL - Returning selected values 09m

47s

JQPL - Group, Having, Order 06m

30s

JQPL - Named Queries 06m

30s

Lazy / Eager 05m

30s

PostgreSQL configuration 06m

38s
Functional programming
Functional programming 10m

30s

Functional interfaces 03m

31s

Lambda expressions 06m

46s

Predicate 09m

35s

Consumer 05m

30s

Supplier 02m

54s

Function 05m

36s

Primitive variants of the functional interfaces 02m 52s
Method references 08m

50s

Optional 10m

01s

Stream API 06m

33s

Generating values for 08m

39s

streams
Filter 04m

28s

Map 06m

24s

ForEach 02m

52s

FindFirst, AnyMatch, AllMatch 05m

13s

Reduce 07m

34s

Collect 07m

12s

Limit, skip, distinct, sorted, count 08m

07s

Streams of primitive types 03m 38s
Modules
Modular architecture 03m

40s

Modular SDK 02m

34s

First module 08m

06s

Determining the relationship between the 09m

49s

modules
Type visibility between modules 03m 56s
Services 11m

02s

Services - approach using Factory Pattern 06m

25s

Construction of modules using Maven 08m 07s
End of 00m

25s