What will you learn?
Work with shell scripts

Automation of tasks

Use of input and output operations

Installation of tools necessary for work

Writing your own bash scripts

Debugging scripts

Using bash scripts during application deployment

Implementation of web applications and FTP server configuration
By choosing this course, you will learn much more!
Attention!
You will receive the download instruction and code from us at the address given when placing your order
e-mail at the latest on the next working day after receiving the payment.
Who is this course for?
This course is designed for people who want to learn how to work with shell scripts or write their own bash scripts. Bash isaverywell known shell of unix systems. It is also a scripting language, knowledge of whichis the key to efficient system administration. Knowledge of bash and the ability to write your own scripts will give you the ability to automateany task.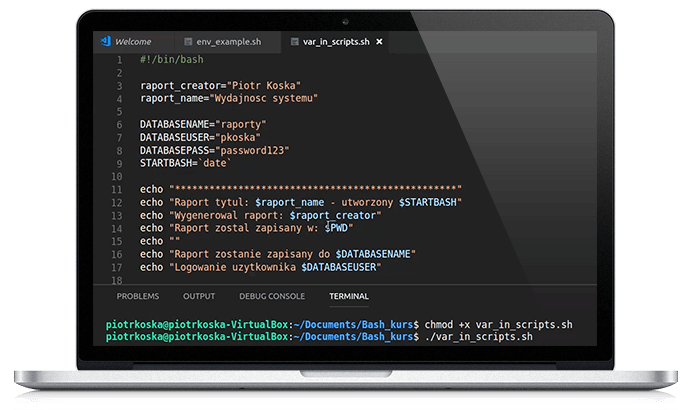 If you want to implement applications in the future or e.g. install packages or configure the system, the knowledge contained in the course will be a rescue for you. This training will allow you toit's very easy to start working with bash,it will also teach you to write your own scripts.
Working environment
The course at the very beginning will show you how to prepare your work environment accordingly, how to configure itfor both Linux and Windows. Now you know that you don't have to be a Linux user to take advantage of bash.
Key elements of bash
The course will prepare you for the main elements of the language, so that you can quickly start writing your own scripts, you can use them without any problems.variables, conditional instructions, loopsand many more. You'll also learn how to write scripts that will allow you tointeraction with the user in the console.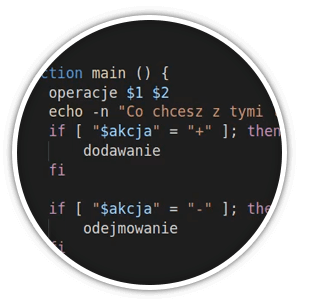 Important techniques
The course consists of instructional videos, which contain many important techniques that will be necessary in your daily work with bash. You will learn, among other things, the techniques ofdebugging scripts, different ways of using functions, as well as methods of working with input/output operations.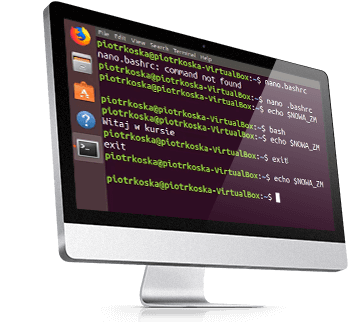 Automation of tasks
Automation of any tasks in the system isan essential area of bash use. Thanks to the videos with examples, you will easily master the practical aspects ofautomation.Youwill be able to easily applythe learnedsolutions in various situations. You will also learn to use the possibilities of bashwhile implementing a real web applicationand configuring an FTP server.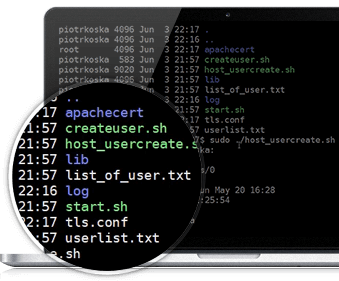 How to use the course?
By buying the course you get access to our training platform. In order to use the course, you only need access to the Internet. The courses can be conveniently viewed through any browser or mobile application for Android and iOS.
Table of contents
Introduction
Admission 00m

48s

How to use the 03m 42s
Brief discussion of the project 02m 40s
Installation of tools - MobaXterm, putty, virtualbox, Visual Studio Code and Git in Windows 05m

49s

Downloading Ubuntu images from the official Ubuntu website. 02m 08s
Installation of Ubuntu Desktop 18.04 with Visual Studio Code 08m

32s

Installation of Ubuntu Server 16.04 05m

48s
Core. Bash.
Bash file - .bash_profile; .bashrc; 14m

58s

Bash file - .bash_history; .bash_logout 13m

24s

What makes the script a shell script 06m

58s

Displaying environmental variables in a script 07m

09s

Use of variables on the command line 04m

49s

Setting and using variables in scripts 10m

31s

Comment types and structure 03m

47s

Nesting commands in scripts, alias 07m

26s

Output status 06m

22s

Arithmetic actions 10m

25s

Global and local environmental variables 07m

57s

Special characters - single, double apostrophes and escape signs 03m 22s
# dev/null 03m

49s

Read. Downloading data interactions in the console with the user 07m

21s

Coating extensions 10m

08s

Types of variables - explicit and implicit definition 06m

55s

Tables 08m

51s
Conditional instructions
Forwarding variables to scripts on command line 08m 22s
IF instructions 07m

35s

IF / THEN / ELSE / ELSE IF 08m

55s

Loops FOR, WHILE, UNTIL, SELECT and CASE operator 16m

03s

During loop operation (Break, Continue) 05m

58s

&&& and 10m

41s
Entries and exits
Reading files, IFS and limits 10m 51s
File descriptors and handles 06m 06s
Traps and signals 07m

42s
Debugging and error handling
Debugging the script 04m

16s

Error handling 05m 48s
Functions
Simple functions 06m

27s

Structure of functions in the script 06m

13s

Variables in function 06m

35s

Functions with parameters 09m

59s

Nested functions 12m

39s

Return and output functions 12m

42s
Examples of use
Script that automates adding users 13m 33s
Automate installation and configuration tasks using the example of WordPress Apache PHP MySQL & Proftp 16m

14s

Simple web and ftp server with multiple user support 07m 14s
Completion