What will you learn?
Creating window and door joinery

Accurate mapping of models from photographs

Search for and optimize your 3D model

Importing and working with raster and vector drawings

Construction of dynamic components

Precise texturing of diverse surfaces

Working with 1001bit tools and Cabinet Tools

Presenting projects in the form of 2D graphics and animations
By choosing this course, you will learn much more!
Attention!
You will receive the download instruction and code from us at the address given when placing your order
e-mail at the latest on the next working day after receiving the payment.
Who is this course for?
The course is intended for people who already know the basics of design in SketchUp.It isbased on thearchitectural and design side of the software, however, theworkingtechniquesand knowledge contained therein can also be used byinteriordesigners. No matter if you treat SketchUp as a hobby or if it is your idea to make money, you will certainly find something for yourself here.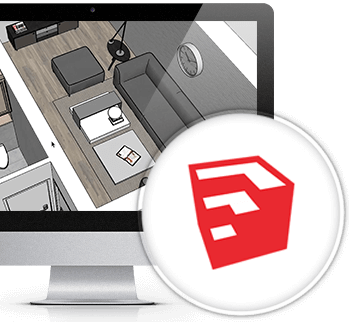 Designing an apartment from A to Z
Do you want to know how an interior design is created? This training will explain everything to you. It discusses the whole design process from scratch. You will start by working on an architectural projection, then you will gradually go through the issues, creating individual parts of the scene. Finally, you will learn how to present your own design in an attractive way.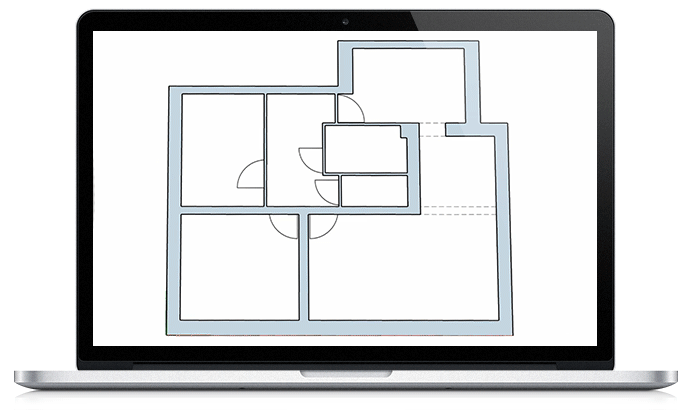 Faster design
Do you already know the main SketchUp tools?If so, this is a great time for you to learn how to use the necessary plugins. They will greatly simplify your work and shorten the time of your projects. From the course you will learntouse as many as 10 most popular plugins. They will improve your modeling, texturing precision and project file optimization.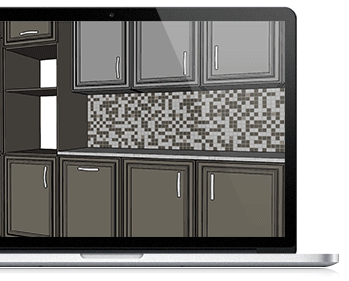 Interactive scenes
Do you want to learn how to create many interactive scenes, e.g.e.g.sliding drawers in cabinets, opening door leaves or dynamically changing colour versionsmodels? The training will introduce you to the advanced attributes of components that will allow you to create interactive scenes.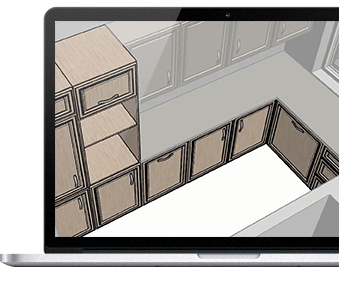 Picture-like models
Do you have a picture of a piece of furniture and would you like to create it in the program to use it in your project? You can do it! All you need is a PhotoMatch tooland you'll createavirtually identical piece of furniture.Allyouneed to do is know the basics of plotting geometry. The course will help you do this with two practical examples and ways of working witha matchingphoto. Now you'll be able to do it yourself while working on your own projects!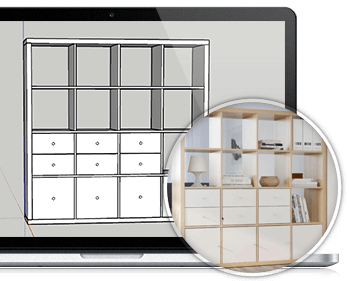 Effective ways of presentation
Photorealistic visualizations look very good, but the time of their creation is very long. Fortunately, there are many alternatives, which are much easier to implement and also look equally attractive.

The author in his instructional videos shows the properties of styles and shadows, which will help you to create quick sketches and sunlit viewslater. You will also learn how to create a virtual view, where you can walk around the prepared interior in the form of animation. This will certainly impress your customers and you will feel like a professional!
How to use the course?
When you buy the course you get access to our training platform. In order to use the course, you only need access to the Internet. The courses can be conveniently viewed through any browser or mobile application for Android and iOS.
Table of contents
Introduction
Introduction 00m

53s

How to use the materials? 02m 31s
Throw job
Working with vector files 08m

14s

Working with raster files 06m

51s

Solids 10m

04s
1001bit tools
Window joinery 09m

21s

Door joinery 04m

08s

Tools 06m

42s

Kitchen fronts 08m

57s
Kitchen
Cabinet Tools 09m

14s

Basics of dynamic components 09m 39s
Opening of cabinets 08m

58s

Drawer pull-out 06m

53s

Colour versions 08m

50s
Photo Match
Basics 08m

53s

Geometric adjustments 05m

59s

Advanced Photomatching - part 1 08m

37s

Advanced Photomatching - c z. 2 07m

07s
Model downloading
3D Warehouse 05m

07s

Model optimization 09m

49s

Importing .3ds, .dwg and .dxf 06m 36s files
3D catalogues 06m

29s
Texturing
Casting 04m

10s

ThruPaint and SketchUV 09m

23s

Roadkill UV 06m

10s
Presentation of the project
Scenes 09m

11s

Styles 07m

07s

Animations 10m

26s

End of 00m

50s