What will you learn?
Creating classes and objects

Where mistakes are most often made

Basic field programming

Basic application programming in C#

Exception handling

Writing legible and correct code

Use of variables, tables, conditional instructions

Working with abstract classes
By choosing this course, you will learn much more!
Attention!
You will receive the download instruction and code from us at the address given when placing your order
e-mail at the latest on the next working day after receiving the payment.
Who is this course for?
The course is intended for all those who want to learn the basics ofprogramming in C#. It will be a great choice because it is based onpractical andeasy to understand examples.During the course you will design easy applications yourself, so you will get to know various areas of C#. You will also learn a lot of useful tipsand principles that will help youkeep the code legible and avoid common mistakes.The author will also explain how to work with the Visual Studio Code editorand howto useits functions and make your everyday work easier.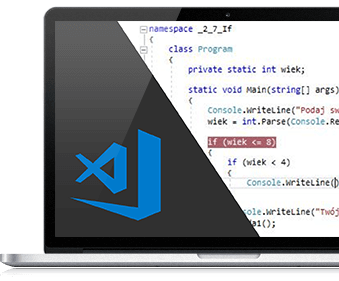 Solid fundamentals
We will start by learning about the environment and the tools we will work with. Thenyou will installandconfigureeverythingstep bystep.The author will also explain the syntax of the language - he will consider keywords and constructions occurring in C#. After going through the first chapters you won't have any problems with elements such as: operators, instructions, arrays, loops,letters,variablesorcomments.This is the time when you and your author will create your first simple program!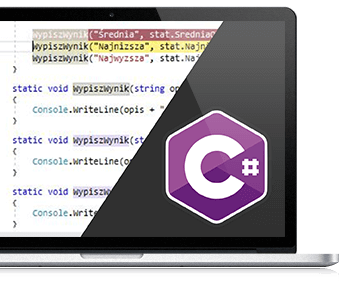 Classes and objects
The core of programming is to create classes. It will explain the function of classes in C#, how to create them, and even how they differ from variables. We will also learn something about encapsulation,accessmodifiersandconstructors.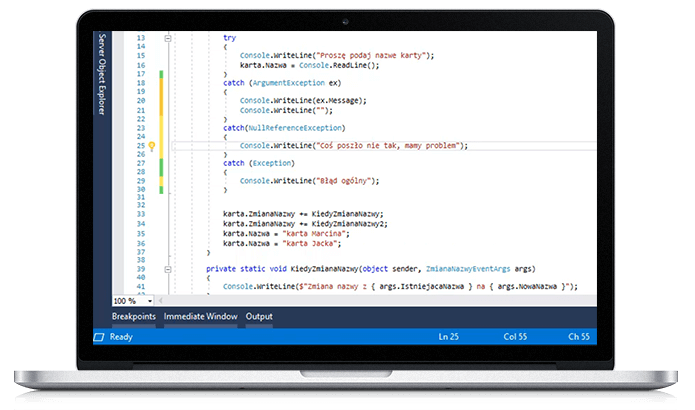 Types and assemblies
From the training you will learn a lot about the types and assumptions. You will easily learn how to distinguishreferencetypesfromvaluable ones.The author will talk about the parameters of the Refand Outmethodandwhat structures and assemblies can be useful for you. Hewill also explain topics related to the fieldand methods that you will expand with parts such as properties,delegatesandevents.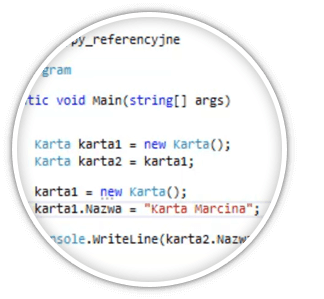 Objectivity and error handling
Another aspect of the C# language mentioned in this course is objectivity.You will learn the most importantpillars of object-oriented programming,learn about inheritance,polymorphism, andhowto use abstract classes andinterfaces. The trainingwill help you deal witherror handling, how to report exceptions, and even how to captureand handlethese exceptionsinyour program.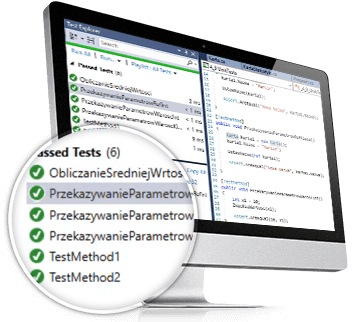 How to use the course?
When you buy a course you get access to our training platform. All you need to use the course is internet access. You can conveniently view the courses via any browser or mobile application for Android and iOS.
Table of contents
Introduction to C#
C# introduction 02m

08s

How to use 01m 20s files
What is NET 02m

45s

What is CLR 03m

12s

What is FCL 02m

32s

What is C# 02m

59s

First programme 05m

55s

Compiler 06m

18s

First VS 11m

50s

IDE 05m

57s

Debugging 03m

36s
Programming elementary
Variables 07m

44s

Variable Var 07m

12s

Range of variables 04m

09s

Fixed 05m

10s

Operators 09m

03s

Comments 05m

07s

If 10m

30s

Switch 07m

56s

Loops 11m

13s

Jump instructions 11m

19s

Collections - Board 06m

48s

Collections - List 06m

49s

Enum 05m

16s
Classes and facilities in c#
Classes and objects - introduction 06m

32s

Our first class - creating 05m

40s

Our first class implementation of 16m

51s

Creating objects 20m 03s
Creating objects - user data 17m 57s
Creating constructors 13m 37s
Object oriented operations on constructors 04m

16s

Class a variable 13m

49s

Reference types 09m

19s

Field programming concept 08m

17s

16m

09s

air-tightening
Hermetisation - access modifiers 13m

49s

Key word - Static 11m

13s
Types and assemblies
Types and assemblies - introduction 00m

50s

Reference types 11m

06s

Value types 09m

41s

Method parameters 12m

04s

Method parameters - Ref, Out 10m

58s

Structures 13m

38s

Immutable 10m

33s

Assemblies of 15m

18s

Unit Tests 14m

34s

Unit Test - transfer of parameters 14m 38s
Methods, Fields, Properties, Events
Methods, fields, properties, events - entry 00m

49s

14m

15s

methods
Methods - params 14m

59s

Fields and properties 13m

35s

Logic property 08m

30s

Delegates 09m

02s

Delegates - practical example 15m

14s

Events 10m

22s

EventArgs events 12m

35s
Field Programming
Field programming pillars 03m

44s

Inheritance 15m

47s

Polymorphism 14m

02s

Abstract classes 14m

08s

Interfaces 13m

04s
Exceptions
Throw 13m

41s

Try catch 11m

25s

Exception chain 12m 25s
Finnally 09m

53s